Impeachment Pelosi Loses It On Live TV – Refuses To Accept Senate's Trump Acquittal Because There Were No Witnesses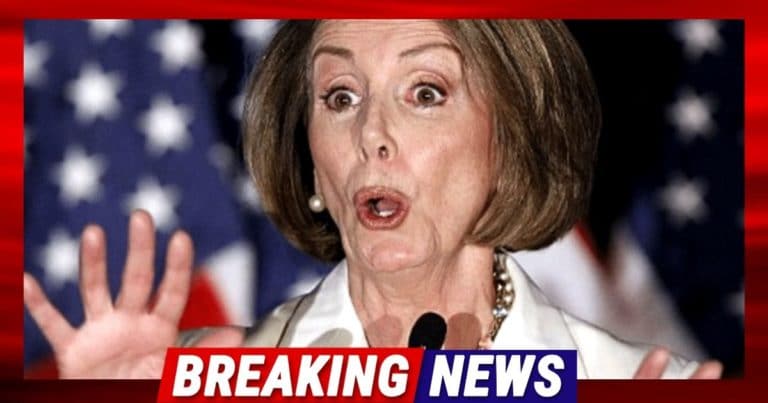 Does Nancy Pelosi think she's a dictator? She might be Speaker of the House, but last time I checked, that doesn't give her power in the Senate.
Yet she demanded the Senate agree to her terms, before she sent over the articles of impeachment.
Mitch McConnell refused, so she sat on the articles for nearly a month (claiming that Trump is impeached "forever").
But even before the Senate trial concluded with Trump acquitted, she made some pretty interesting statements about the Senate's vote.
You might agree that she went too far.
From Fox News:
In scathing comments Thursday as her party appeared on the verge of defeat in the Senate impeachment trial, House Speaker Nancy Pelosi argued that President Trump "cannot be acquitted" if the trial lacks the witness testimony and documentation that Democrats have been seeking.

The San Francisco Democrat also fired on Trump's impeachment defense team, saying they've "disgraced themselves" during this week's trial and suggesting they deserve disbarment over their trial remarks.
Wow. Now, this is something.
Seeing that the Senate trial was about to end in Trump's favor, Nancy Pelosi said Trump cannot be acquitted if no witnesses or new documents were included.
She went on to say that Trump's defense team should be disbarred over their remarks.
Disbarred? Over defending their client during a trial? I'm no lawyer, but that doesn't make a lick of sense.
Is Pelosi forgetting that the point of the House investigation was to find witnesses and provide evidence?
She had months to do that. Her team could have gone to the courts to subpoena documents and testimony. But they didn't. They rushed through the process to get to the vote.
The Senate trial serves to review what the House uncovered and vote on it. They were never obligated to bring in new witnesses or evidence the House neglected.
Yet now, Pelosi is accusing the trial of being illegitimate. By that logic, doesn't that mean her House impeachment vote was illegitimate too, since she didn't call those witnesses either?
Honestly, Nancy Pelosi is a congresswoman who has served the government for years. Yet today, her comments don't sound like something a professional leader would say.
Has she lost it? Is she so outraged that the Senate trial didn't go her way, that she'd say anything?
The Senate voted to acquit, and that should be the end of it. But Nance suggested she'd reject it.
But it doesn't work that way, Nancy.
I wonder if she will join Adam Schiff in questioning the 2020 Election results if Trump wins?
SHARE to show everyone Nancy Pelosi has lost it!
Source: Fox News