After Nancy Pelosi Plans Major International Visit – Red China Warns the Speaker Not to Travel to Taiwan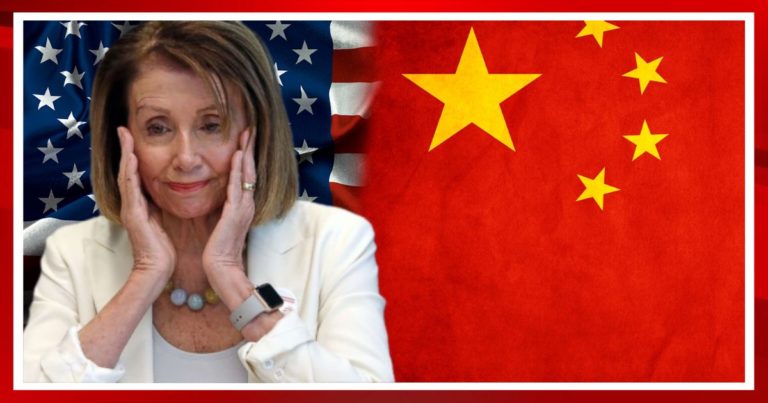 What's Happening:
Despite the fact she is soon to lose the House, Nancy Pelosi will soon be leaving the U.S.
While we are all thankful that she won't be around for a while, the good people of Taiwan will have to put up with her.
Or will they? Red China gave Pelosi a grave warning. Don't go to Taiwan. But will she obey?
From AP News:
China will take "resolute and strong measures" should the Speaker of the U.S. House of Representatives Nancy Pelosi proceed with reported plans to visit Taiwan, the Chinese Foreign Ministry said Tuesday…

A visit by Pelosi would "severely undermine China's sovereignty and territorial integrity, gravely impact the foundation of China-U.S. relations and send a seriously wrong signal to Taiwan independence forces," Foreign Ministry spokesperson Zhao Lijiang said at a daily briefing.
Communist China warned House Speaker Pelosi to cancel her trip to Taiwan. They even made a vague threat that "strong measures" will be taken if she proceeds.
The United States has waffled over its support of Taiwan, which China claims as its own.
Joe Biden previously promised to defend Taiwan if China tried to take over. But his administration—who seem to be bending over backward for the communist regime—had to walk back his statement.
Now, Pelosi plans to visit the land, in what appears to be a largely meaningless and symbolic gesture.
As Speaker, she cannot authorize support or even military action to defend the country. It would require an act of Congress to support an actual war.
The president has power to send troops on missions, but not the Speaker.
But the trip does send a message around the world that at least the highest-ranking member of the House supports Taiwan.
Especially if Pelosi says something to that effect while in the country.
What will she make of China's threat? The communist dictatorship claims even a trip would "undermine" China's sovereignty and weaken our relationship with them.
Sure, and pigs can fly. China is deeply invested in America's economy. While patriots might like to see them pull out, their businesses cannot.
Nor does one lawmaker visiting Taiwan undermine a foreign country's "sovereignty."
But will Pelosi cancel her trip? She might come up with some excuse, but if she does, she'll be showing the world that she fears China.
Key Takeaways:
China threatened Nancy Pelosi, warning her not to go to Taiwan.
China claims the country is part of its regime.
Pelosi might back down, over threats of "strong measures" from the communist country.
Source: AP News