Nancy Pelosi Crosses The COVID Line – She Lets China Off Hook, Then Calls It The "Trump Virus"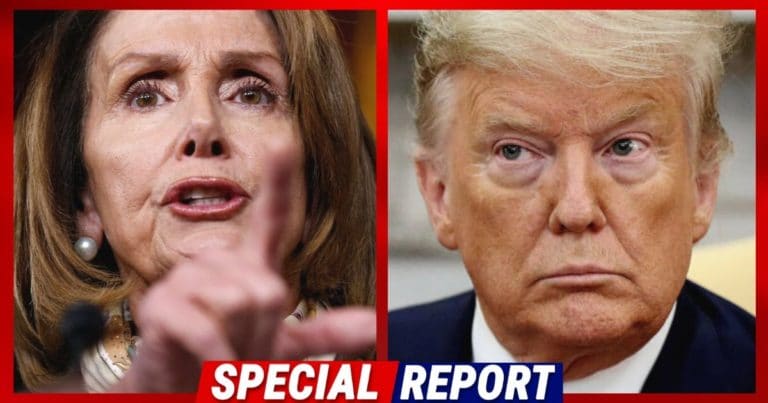 What's Happening:
Since Trump entered office, Nancy Pelosi has distinguished herself, by saying some of the most offensive, disrespectful things about the president.
But what she just said might be the worst yet.
President Trump recently resumed his press briefings about COVID. He is urging all Americans to wear masks.
What does Pelosi do to follow up on the president's guidance? Insult him:
Pelosi appeared on CNN's "The Situation Room" Tuesday evening where she weighed in on Trump's remarks during Tuesday's press briefing…

Pelosi debuted a new nickname for the virus as revealed her reason for holding the president accountable for the United States' pandemic response.

"In fact, clearly, it is the Trump virus," Pelosi added.
From the very start of the COVID outbreak, Nancy Pelosi has been critical of the president. She and the rest of the mainstream media have tried to blame the spread on the White House.
Yet neither Pelosi nor her allies on the left have ever provided better guidance or leadership during this crisis.
She is now calling Trump's response to the virus a "virus" itself. During the interview, she continued to spread the false notion that Trump called the problem a "hoax."
This narrative was debunked again and again, as it was proven Trump's criticism of the media's coverage of the virus early on was a hoax and not accurate.
He never suggested the virus was a hoax, given his quick actions back in January.
Pelosi continues to push this line, despite the facts.
It doesn't seem Pelosi ever had a clear idea of how the country should respond to COVID-19. Remember, back in February, the Speaker appeared in San Francisco's Chinatown.
She encouraged Americans to travel and engage in normal activity. This, after Trump had shut down travel from China in January to slow the spread.
Pelosi contradicted the president's strategy back then, only to pivot when it became obvious the disease was a problem.
Since then, the Speaker has shown little leadership during the outbreak. She even delayed needed legislation to replenish the Paycheck Protection Program.
Her criticisms of the president today ring hollow, given her unbroken track record of being wrong.
Key Takeaways:
Nancy Pelosi insulted President Trump, calling his response to the virus the "Trump virus."
The Speaker defied the president back in February, encouraging Americans to travel.
Pelosi frequently held up Congress' efforts to bring relief, by pushing her own agenda.
Source: IJR