Pelosi May Have Slipped Poison Pill Into Spending Bill – Nancy Didn't Get Authorization For Slipping In Immigration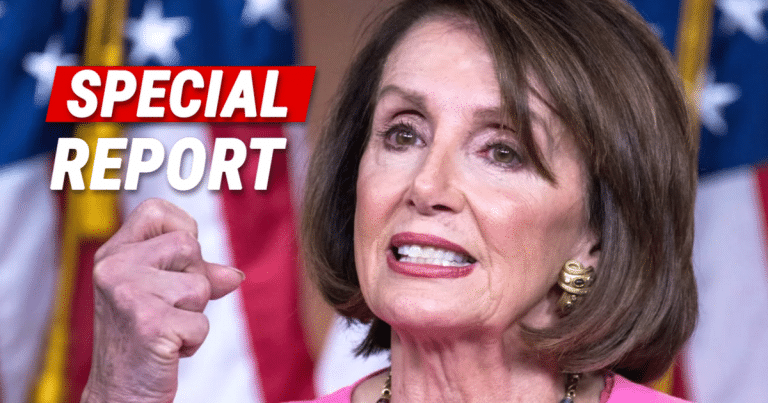 What's Happening:
Democrats in the House are cheering today because they finally passed their version of Biden's bloated spending agenda. After months of arguing, conflict, and a brewing party civil war, House Democrats passed the bill. Not a single Republican voted for it.
But this bill is still a long way from becoming law. A version needs to be passed in the Senate, with every Democrat voting on it. There are at least two moderates who have been unwilling to support this massive spending package. And now, something Pelosi slipped into this bill could make it dead in the water.
From The Hill:
The social spending bill approved by the House Friday in a 220-213 vote includes the most extensive immigration reform package reviewed by Congress in 35 years…

The parliamentarian, an unelected official who provides counsel on Senate rules, advised the first two Democratic immigration proposals were incompatible with reconciliation, warning they went beyond a budgetary impact and represented a substantial change in policy.
Tuck inside Pelosi's bloated spending bill are major immigration reforms. These are not budget issues, but significant changes to our immigration laws, including amnesty and other magnets that will draw migrants to our border.
The big problem? Senate Democrats have tried, twice, to put major immigration reform in their version of the spending bill. But the Senate parliamentarian rained on their parade, revealing that those changes cannot be put into a reconciliation bill.
The only reason this bill has a chance of passing in the Senate is because Democrats are exploiting the reconciliation loophole. They can't get a clean bill through without 60 votes. But a reconciliation budget bill only needs a simple 51 majority.
The parliamentarian made it very clear, twice, that immigration reform has nothing to do with the budget. And so, it cannot be put into a bill that will pass with a simple majority. That puts Democrats in a very bad position.
Senate Democrats can pass Pelosi's bill if it contains immigration reform. This means, this entire spending bill could be DOA—before the Senate even has a chance to vote on it.
Key Takeaways:
Pelosi snuck major immigration reform into the bloated spending bill.
A reconciliation bill in the Senate cannot have immigration changes, as per the parliamentarian.
Senate Democrats might not be able to vote on the House's spending bill.
Source: The Hill