Speaker Nancy Pelosi Just Crossed The Line – She Pins The Blame On Republicans For George Floyd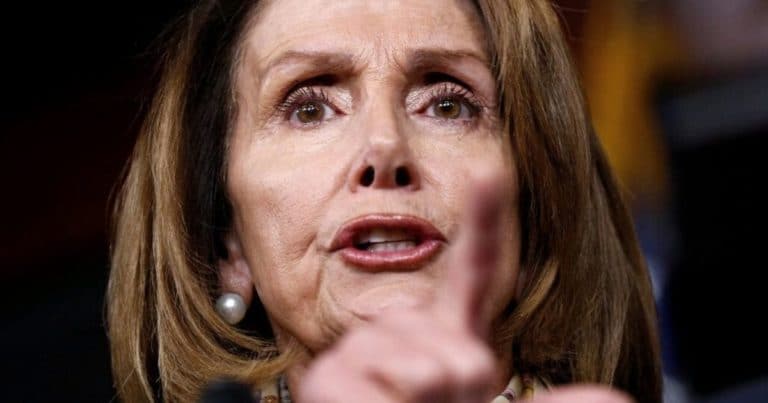 The country has been reeling ever since the death of George Floyd. Protests gave way to nights of violence.
Today, many regions suffer as anarchists topple statues or deface monuments. This, even though those responsible for Floyd's death were arrested and the case is ongoing.
But Democrat Nancy Pelosi seems to have come to a very different conclusion about George Floyd:
Unhinged Speaker of the House Nancy Pelosi said that Republicans are "trying to get away with murder…the murder of George Floyd," when she spoke during a 1×1 on CBS News on 6/23/2020.
Pelosi's statement came as she discussed the government's role in police reform. She accused her Republican colleagues of ignoring the issue, saying they are somehow responsible for George Floyd's death.
Why is Pelosi's comment so newsworthy?
She said this even as Republicans in the Senate work on a police reform bill (her House Democrats refused to let Republicans provide input on her bill).
This kind of language—even from Speaker Pelosi—is rare, if not unprecedented. By accusing Republicans of "trying to get away with murder" she is overtly politicizing an issue that many have said should be bipartisan.
It appears Pelosi is ignoring the efforts of Republicans to protect black lives, including recent reforms made by the president via an executive order.
Yet Pelosi, and other ranking Democrats in the Senate, have refused to show support for Republican measures. Sen. Schumer said not a single Democrat will vote for Sen. Scott's police reform bill.
It appears Democrats like Pelosi are quick to throw around blame but refuse to cooperate when asked.
Key Takeaways:
Nancy Pelosi accused Republicans of "trying to get away" with the murder of George Floyd.
The speaker appears to be suggesting Republicans are doing nothing to address police brutality.
This comes after Trump signed an executive order to combat the issue and as Sen. Scott works on legislation.
Source: YouTube