Hours After Pelosi Promises Impeachment – Donald Plays His Trump Card On Nancy, Adam, Joe And Hunter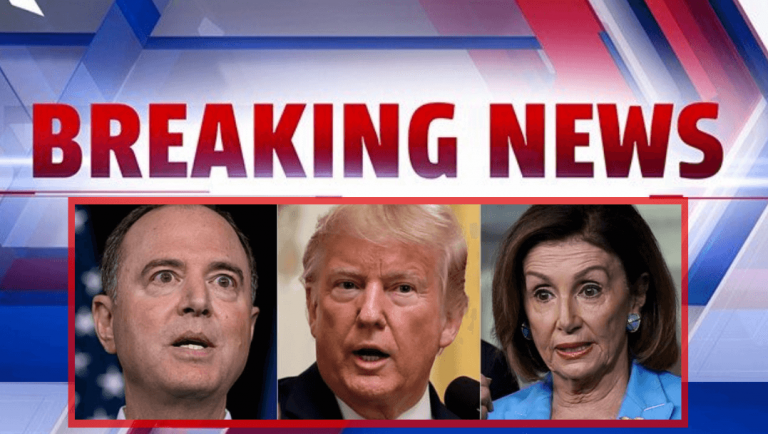 Nancy dared to impeach Trump – now he's draining their Democrat swamp!
Nancy Pelosi announced today that they will be drafting articles of impeachment against the president.
There's a very good chance that House Democrats will vote against the president. It'll seal their fate, but hey, we're talking about Democrats.
There was something Nancy was forgetting, though: the president's trump card.
And now he plans on using it.
From Fox News:
President Trump on Thursday challenged House Democrats to impeach him "fast" and ship the process over to the Senate, where he threatened to seek testimony from top Democrats including House Intelligence Committee Chairman Adam Schiff, former Vice President Joe Biden and his son Hunter, and Speaker Nancy Pelosi…

"We will have Schiff, the Bidens, Pelosi and many more testify, and will reveal, for the first time, how corrupt our system really is."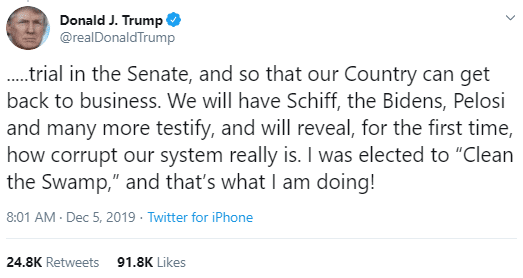 Uh-oh! Did Pelosi think Trump was going to sit back and let Democrats destroy our democracy?
If the House votes to impeach, the Senate will hold a trial. Every last person Schiff tried to protecting during his bogus hearings will be forced to testify.
We will finally hear from Schiff, Joe Biden, Hunter Biden, and Pelosi herself. We might even finally get to lay our eyes on this so-called whistleblower: the partisan that started this all.
Reports indicate that Lindsey Graham and other Republican senators are already preparing. They are gathering up documents on what Biden and other Democrats were up to with Ukraine.
The entire party might be exposed in a very serious way. Any real crimes and wrongdoing will be brought before the American people.
Something tells me that Democrats will not come out very pretty in all this.
What will we learn when Republicans turn the screws on Schiff, Biden, and Pelosi? Everything they tried to hide will come spilling out, big time.
If Pelosi had been smart, she would have quietly dismissed impeachment before the year was out.
But now? She's really stepped in it, hasn't she?
SHARE if you're ready to see these Democrats forced to take the stand!
Source: Fox News