Pelosi Unveils Despicable Plan Against Republicans – If They Disobey, She Wants To Lock Them Out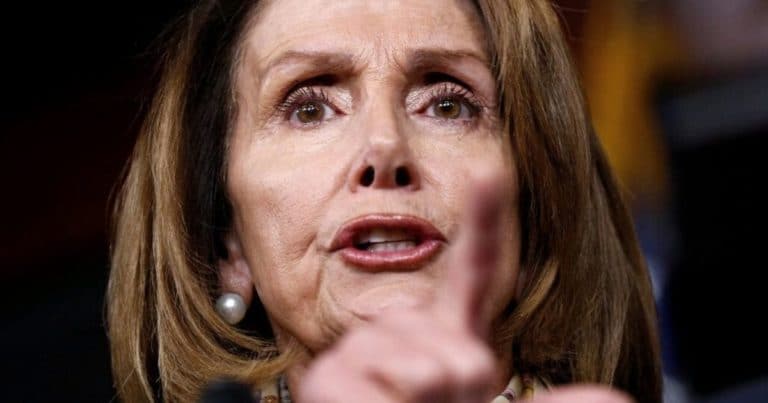 What's Happening:
Nancy Pelosi's been called many things: old, miserable, dishonest, senile. But one thing she's never been called is reasonable or cooperative.
During the Trump years, the Democrat refused to negotiate—even on major issues like DACA.
She tore up Trump's SOTU address, walked out of important meetings (to appear before the cameras), and refused to work on important bills during the pandemic.
She continues to get worse as she implements a new bogus rule, just to keep Republicans off the House floor.
From The Epoch Times:
House Speaker Nancy Pelosi (D-Calif.) suggested on Friday that Republicans who do not get vaccinated for the CCP virus and defy her mask mandate may be prevented from entering the floor of the House of Representatives and have to cast their votes in a dedicated space in the House gallery…

"We have to wait for them to be vaccinated because they are selfishly [an] endangerment to other people, including staff people here," Pelosi said. "An honor system as to whether somebody's been vaccinated? Do you want them breathing in your face on the strength of their honor?"
As usual, Pelosi is attacking Republicans over her own sins.
She is calling Republicans selfish for not being vaccinated. Except she selfishly ignored lockdown rules, no mask in sight, to get her hair done in San Francisco.
Yet now we're supposed to forget all that, as she insults Republicans' "strength of honor"?
That's rich coming from a party that spreads anti-white racism, anti-male sexism, is frequently in the news for fraud and corruption, and abuses whatever power they get.
Pelosi has become, more and more, like a dictator of the House. She sees that her time as speaker is coming to an overdue close.
So, she is trying to throw her weight around—in a desperate bid for respect.
Someone who deserves respect doesn't act like this. From all appearances, Pelosi comes off as a selfish, nasty, unprofessional loser.
Trump often called into question her mental capacity. He liked to call her "Crazy Nancy."
It seems with each passing day, his prediction is coming true.
Pelosi is losing her mind—and should be replaced ASAP.
Key Takeaways:
Pelosi threatened to kick out Republicans who are not masked or vaccinated.
The speaker has shown little willingness to negotiate or cooperate with years.
She is more willing to insult her rivals than show professionalism and respect.
Source: The Epoch Times