Nancy Pelosi Eyes Trillion-Dollar Handout – She Wants To Use Phase 4 Bill To Give Relief to Cities And States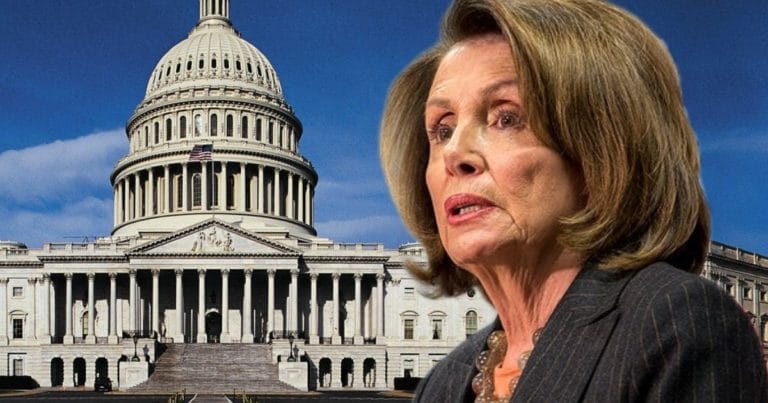 Good o' Nance seems to think this crisis is "a terrible thing to waste," as Hillary Clinton suggested this week.
The Speaker is talking about what she wants to put into a "Phase 4" relief bill.
And wouldn't you know? It a great big bailout for blue states!
From Reuter:
U.S. state and local governments could need close to $1 trillion in aid over several years to cope with the aftermath of the coronavirus pandemic, House Speaker Nancy Pelosi said on Thursday as lawmakers began plotting more coronavirus relief legislation.
Wow. Pelosi says she wants to give states over $1 trillion "over several years" to help "cope" with the virus pandemic.
Hmm… maybe that's why most blue states refuse to reopen? The longer they can drag out the economy-crushing lockdowns, the worse they'll be?
Then, they have a good reason to demand trillions in federal tax dollars?
If you won't even consider that's the real reason liberal governors refuse to reopen, perhaps you should open your eyes?
From the very start of this crisis, we saw evidence of people trying to milk the federal government. Gov. Cuomo demanded 40,000 ventilators. He never even needed a fraction of that.
Mitch McConnell warned us that blue states would try to use this crisis to bail themselves out of bankruptcy. Now Pelosi is proving him right.
Must be nice, huh? If Americans suffer from this crisis, we get a $1,200 check and a pat on the back.
States, on the other hand, think they can get trillions to pay off their decades' worth of bad decisions.
Do you think that money would go toward fixing roads and bridges, lowering taxes for hurt businesses, or improving schools?
Something tells me, not a chance. Perhaps it will go to paying off those liberal pensions (and their bloated welfare programs)?
When Trump and the GOP passed their historic tax cuts in 2017, it meant states could no longer squeeze wealthy residents for cash.
That meant they had to tighten their belts, so to speak. But did they? Doesn't look that way.
With COVID-19 numbers declining, we are seeing this isn't the end of the world, as the media claimed.
Yet many on the left continue the fearmongering we saw in March. Why?
Now you know why. And Pelosi is all too happy to give away your money to bail out Democrat states.
Will Republicans sit back and let her mortgage away our future? They better not.
SHARE to tell Republicans in Congress to end these bailouts and get America back to work.
Source: Reuters