Hours After Pelosi Tears Up Trump's Speech – The Senate Tears Apart The Speaker's Impeachment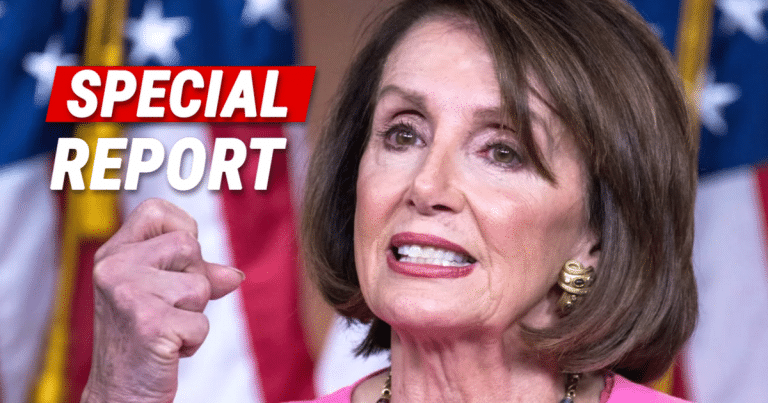 Nancy Pelosi gave the President of the United States the ultimate insult.
She impeached him over a phone call—with a vote along party lines.
But she knew she had no power left, certainly none to remove Trump from office. She even sat on the impeachment articles for nearly a month, just to force the Senate to bend to her will.
Even that failed and she knew it. In one last stab at the president, she tore up his State of the Union address before the entire country.
Did she think that would really hurt him?
In any event, the Senate is returning the favor.
From Twitter: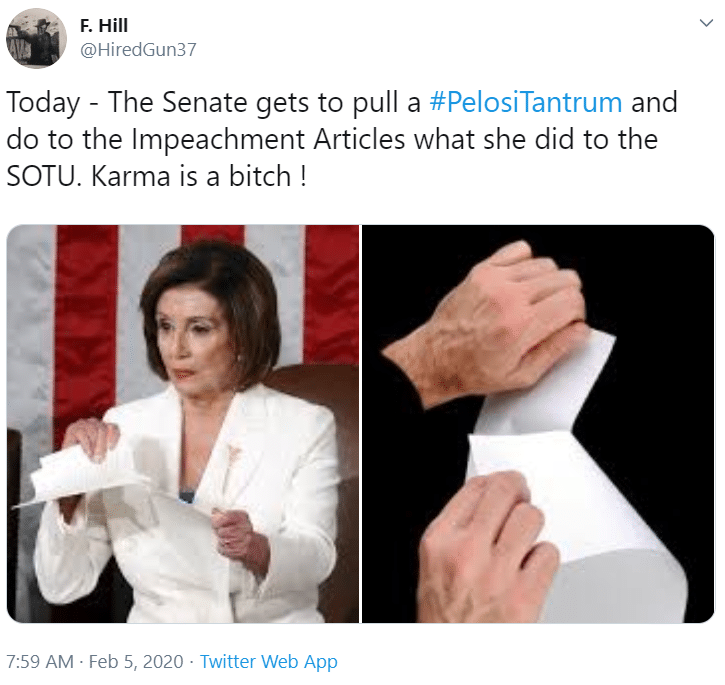 Today – The Senate gets to pull a #PelosiTantrum and do to the Impeachment Articles what she did to the SOTU. Karma is a bitch !
The day after Pelosi ripped up Trump's speech, the Senate just ripped up her articles of impeachment.
Nancy cashed in whatever political clout she had left to pass those impeachment articles. She staked her entire party's reputation on impeaching Trump.
But she was able to convince few Americans that he deserved it.
Now, the Senate wiped the slate clean, voting to acquit him. From MSN:
President Donald Trump won impeachment acquittal Wednesday in the U.S. Senate, bringing to a close only the third presidential trial in American history…

…the final tallies — 52-48 favoring acquittal of abuse of power, 53-47 of obstruction of Congress' investigation — fell far short.
Not only did Pelosi's impeachment not hurt Trump, he seems to be wearing it as a badge of honor.
Here was his first response to being cleared. From Twitter:
— Donald J. Trump (@realDonaldTrump) February 5, 2020
Even his Gallup numbers have gone from 38% in October to an all-time high of 49%. That's after months of mainstream media spinning the impeachment push.
Do you think Pelosi is happy with herself, right about now?
SHARE to tell everyone that Trump won and Pelosi lost!