After Pelosi Blames Trump For Virus Response – Donald Turns The Tables On Them For 'Wasting Time'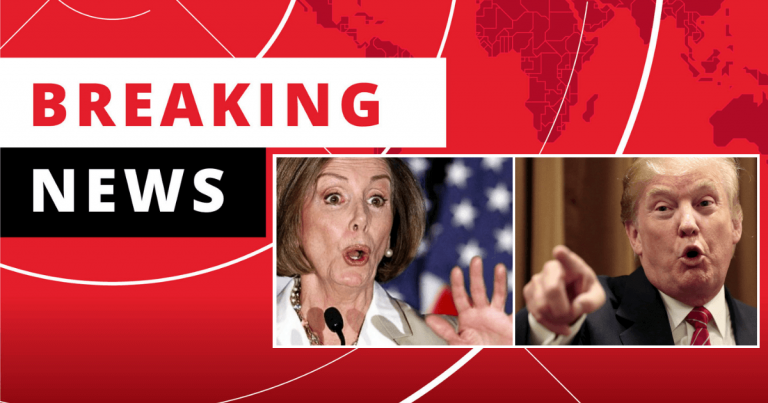 Many Americans are rightly concerned about the spread of the coronavirus—but what are the Democrats doing?
They are blaming Trump and calling him incompetent. In fact, they are using this situation to demand billions of dollars.
To his credit, the president is taking the calm and measured approach. He is reassuring the country that his administration has taken decisive action. President Trump is working to keep the markets calm.
Meanwhile, the New York Times wants to call this the "Trump virus." And Pelosi and Schumer are accusing Trump and Pence of not doing enough.
So, the president put them on the spot.
From Fox News:
As his administration is working to organize its response to the coronavirus threat in the United States, President Trump slammed Democrats overnight for allegedly "wasting time" going after him.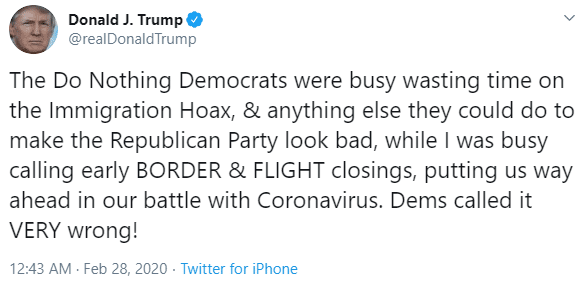 The Do Nothing Democrats were busy wasting time on the Immigration Hoax, & anything else they could do to make the Republican Party look bad, while I was busy calling early BORDER & FLIGHT closings, putting us way ahead in our battle with Coronavirus. Dems called it VERY wrong!
The president slammed Democrats for trying to use this situation to push politics. Trump and his administration have taken strong steps to ensure Americans are safe.
He's closed our border to China. His administration has instituted quarantine measures. As the situation gets worse in other countries, things are looking pretty good here at home.
But what are the Democrats doing? Facing a dismal primary season and a likely Trump re-election, they are whipping up this story.
They seem to want Americans to panic—and blame Trump over this situation.
Really, Democrats? Why the heck aren't you working with Trump, providing insight and resources to keep the country safe?
Instead, they are sitting back, nit-picking Trump's response. The CDC is hard at work. Trump's administration has been working around the clock.
But Democrats are popping up in front of the cameras to whine.
Even the AP News fact-checked Democrats from the debate and rated their CDC comments about Trump cutting funding false.
President Trump hits the nail on the head when he says they are wasting time. As we've seen over the last three years, Democrats are trying to use this story just to hurt the president.
Imagine how things could be, if Democrats bothered to put Americans first?
We wouldn't have to worry at all, because we could rest assure that our entire government is doing what it should.
I guess that's just while pipe dream, huh?
SHARE to tell Democrats to stop wasting President Trump's time—and do their job!
Source: Fox News