Pelosi's Impeachment Could Be In Trouble – 24 Hours Before The Vote She Hits A Roadblock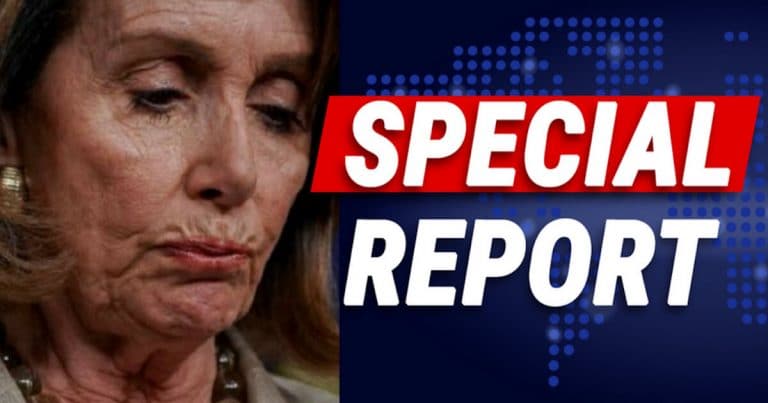 Nancy Pelosi think she's got Donald Trump cornered.
The House Democrats are looking to formalize their impeachment inquiry tomorrow, but it may not go as planned…
We're already starting to hear about Democrats who aren't on board the "Impeach Trump" bandwagon.
As a result, House Speaker Nancy Pelosi's mission to oust the President might be starting to fall apart.
Rep. Jeff Van Drew (D-NJ) is one of the first who plans to say NO.
From Breitbart:
Rep. Jeff Van Drew (D-NJ) said Tuesday that he will likely vote against a resolution by House Democrats to formalize their secret impeachment inquiry against President Donald Trump…
Not a good sign, Nancy!
Van Drew was asked by an NBC News reporter if he'd vote for the impeachment measure, and he replied, "I would imagine that I'm not voting for it."
That's not the only problem Pelosi faces, either:
House Majority Whip Steny Hoyer (D-MD) said the impeachment vote might not even happen on Thursday!
See, Pelosi? this is what happens when you take your secret impeachment meetings out into the open.
You can't just dictate everything and assume everyone will fall in line. Some people, even those in  your own party, are very much against you in this matter.
Pelosi is starting to realize this. Not only are some Democrats turning on her, but many experts believe impeachment is NOT the way to go.
It's clear now that she won't get a unanimous vote. She might not even get a majority vote…
But either way, we believe this entire impeachment mess is just a desperate ploy by Democrats, because they know they can't beat Trump fair and square in 2020.
So, they resort to these shady, underhanded tactics!
Do you agree that Trump is completely innocent, and Pelosi's impeachment push should be struck down?
SHARE to spread the word if you do!
Source: Breitbart