Mike Pence Unloads On Democrats – Drops Shutdown Anvil On Border Wall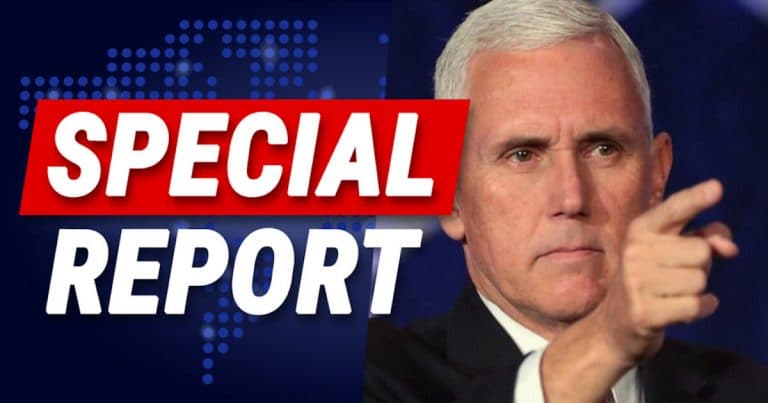 The Vice President turns up the heat – Democrats can't handle it.
This government shutdown proves how desperate and crooked the Democrats are.
The crisis at the border goes beyond partisan politics. A wall must be built. Period.
But the evil liberals of the D.C. swamp continue to punish Americans.
Even Mike Pence, the Vice President, tried to bring lawmakers to the negotiating table. But it fell apart.
Now he's speaking out on what is really going on.
From MAGA Voter:
Vice President Pence spoke to reporters briefly, echoing the president's sentiments while voicing his frustration with Democrat leaders…

The Vice President pointed out that, in addition to the ongoing government shutdown, the country is also faced with a "humanitarian and security crisis at our southern border," while admonishing Democrats for being "unwilling to negotiate" during Wednesday's meeting.
SHARE to thank Pence for standing up for Trump and the wall!
Pence explained that the arrogant Democrats demanded the government reopened while refusing to even discuss the border wall.
Pathetic.
Don't believe what the Democrats say. They refuse to even discuss the crisis with the president. They are not on the side of the American people but on the side of outsiders and invaders.
They refuse to compromise, a crucial step in any agreement.
Even North Korean dictator Kim Jong Un was willing to compromise for the good of his people.
What does that tell you about the Democrats?
V-P Pence is making it clear, in no uncertain terms, this shutdown is the left's fault. Trump, Pence, and the GOP are willing to negotiate.
The Democrats are not.
Every last citizen suffering because of the shutdown has Pelosi and Schumer to blame.
SHARE to thank Pence for standing up for Trump and the wall!
Source: MAGA Voter