Mike Pence Hints At His Plans After Trump – Vice-President Says He Needs "At Least 4 More Years"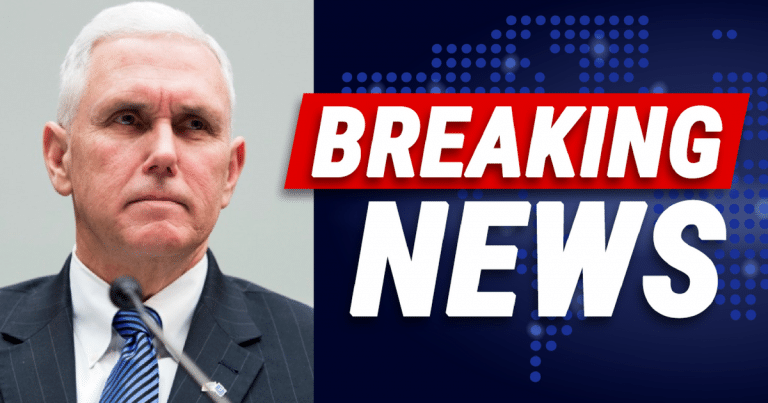 Pence let it slip out – and Americans are getting on board!
Can anyone picture the United States after Trump leaves office? As much as we'd love him to continue winning forever, he has only eight years in office.
The fact remains that his impact on this country will be felt for years to come. Decades, perhaps.
But the truth is, after 2024, we will be looking for a new leader. Trump will leave office and America will need someone to carry on the America first mantle.
Who could that be?
Mike Pence, Trump's VP and closest ally, is hinting what he might do after the Trump administration.
From The American Mirror:
During a stop in Holland, Michigan on Wednesday, President Trump's deputy said it would take "at least four more years to drain that swamp."

"Four more years means more jobs. Four more years means more judges. Four more years means more support for our troops," he said.

Then he added, "And it's going to take at least four more years to drain that swamp," drawing big cheers from the Republican faithful.
We're far from knowing what will happen after Trump's time in office. But Pence's statement of "at least" gives us a big clue.
Trump will do the lion's share of the work while he's in D.C. But the task of draining the swamp might not be done by 2024.
Pence says "at least," four more years. Which means it might take another term or two after Trump's gone to get rid of all the corruption in Washington.
Does this mean Mike Pence is looking ahead—to his future White House run?
We don't know for sure, but he just might be thinking about what will happen to this country, after Trump leaves.
Make no mistake, the country will be in a much better place after Trump leaves office. But we will still need a strong, America first president.
Pence just might be our man—maybe with Ivanka Trump as his new Vice-President. What do you think?
SHARE to tell Mike Pence you support him for president in 2024!
Source: The American Mirror