Report: First 2019 Poll Reveals The Floor Just Dropped Out Under Pelosi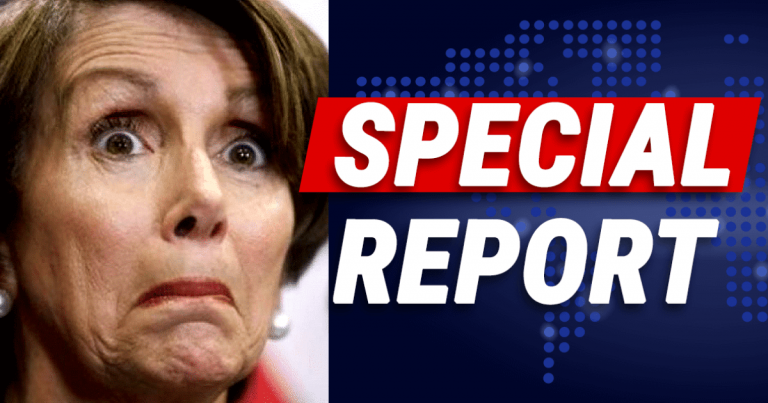 But the poll shows very different numbers for President Trump.
As is often the case, the mainstream media are pushing a view that is far from reality.
They are gushing over the new Speaker of the House. Nancy Pelosi, a tired, old Democrat who represents everything wrong with Washington, D.C.
As this old crony takes her victory lap, she and the rest of the swamp aren't even aware of what America really thinks of her.
We'll give her the bad news.
From The American Mirror:
While Democrats and media figures fawn over Pelosi, many aren't aware that she's one of the most unpopular members of Congress…

According to a recent Gallup survey, only 38 percent of Americans view Pelosi favorably, with 48 percent viewing her unfavorably…

By comparison, Trump's current approval rating is 10 points higher.
SHARE if you think Nancy Pelosi is the worst Speaker ever!
Pelosi is bragging that she has as much power as the president. Now there's something to laugh at!
I guess the old girl has forgotten about this little thing called the Constitution.
She's touting a possible impeachment, forgetting that the Republican-controlled Senate will never let that happen.
Meanwhile, Trump has worked through the holidays to find a solution to the shutdown.
We are seeing a repeat of 2016 when the media pushed Hillary Clinton onto us. They were too stupid and arrogant to see America hated her and loved Trump.
Now, their last hope is a 78-year-old woman who makes more gaffes than Joe Biden!
It's not a surprise her approval is in the toilet. She doesn't have the support of the American people.
The more she pushes an anti-American, pro-immigrant agenda, the more she will destroy her party.
Fine by us!
The sad reality is, they didn't have anyone else even remotely competition enough to become Speaker. Everyone else in the Democratic Party is less liked, influential, and experienced.
Think on that! Then thank God Trump is in charge.
SHARE if you think Trump is doing a MUCH BETTER job than Pelosi!
Source: The American Mirror