Sidney Powell Drops Lawsuit On Battleground State – She Just Demanded Election Results Be "Decertified" In Georgia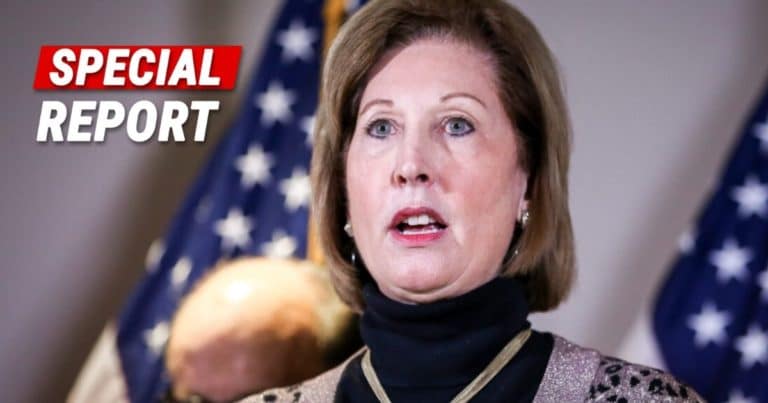 President Donald Trump recently said he would leave the White House if Joe Biden received more electoral college votes. But that doesn't mean POTUS is giving up.
In fact, Trump and his team continue to contest the election results in several critical battleground states around the nation. They maintain there were widespread "voter irregularities."
And as we've seen in the past few weeks, Attorney Sidney Powell clearly agrees with that assessment.
Now she's going to bat for Trump in Georgia, where the presidential race was very close. According to the results, Biden won by only 12,670 votes, or about 0.25 percent.
Democrats and the media claim the results are accurate and Georgia has already certified.
However, this hasn't dissuaded Powell — in fact, she just leveled a lawsuit alleging major fraud and voting manipulation. Ultimately, the suit seeks to have the results overturned.
Via Fox News:
Attorney Sidney Powell filed a lawsuit in Georgia on Wednesday evening alleging 'massive election fraud' that changed the state's results in the 2020 election.
In the 104-page filing, Powell names Georgia Gov. Brian Kemp and Secretary of State and Chair of the Georgia State Election Board Brad Raffensperger among the defendants.
The lawsuit also alleges "illegally and fraudulently manipulating the vote count to make certain the election of Joe Biden as President of the United States."
Powell even cites supposed Constitutional violations, and claims tens of thousands of votes were affected. In her view, this allowed the state to swing in Biden's favor.
Lastly, the suit goes after the controversial software and hardware produced by Dominion Voting Systems Corp, and further claims there is "incontrovertible physical evidence that security systems were breached."
A Dominion spokesperson has already reacted to the allegations, telling Fox News Powell's claims are false.
And Raffensperger and other state leaders say the vote recounts make it plain — Biden is the clear winner, and there is no evidence of election tampering.
Democrats have also urged Trump to simply concede and begin the transition process.
But the President and his allies haven't given up hope and neither have their followers, and they likely won't give in until Biden's inauguration on January 20.
Key Takeaways:
Attorney Sidney Powell hit Georgia with a lawsuit. The suit seeks to "decertify" the presidential election results.
Powell alleges major fraud, and the suit contains accusations of "manipulating the vote."
She believes this ultimately led to thousands upon thousands of votes being affected, which is why Biden won the state by a narrow margin.
Source: Fox News