After Democrats Dare To Punish Marjorie Taylor-Greene – Kevin McCarthy Warns Pelosi She Will Regret It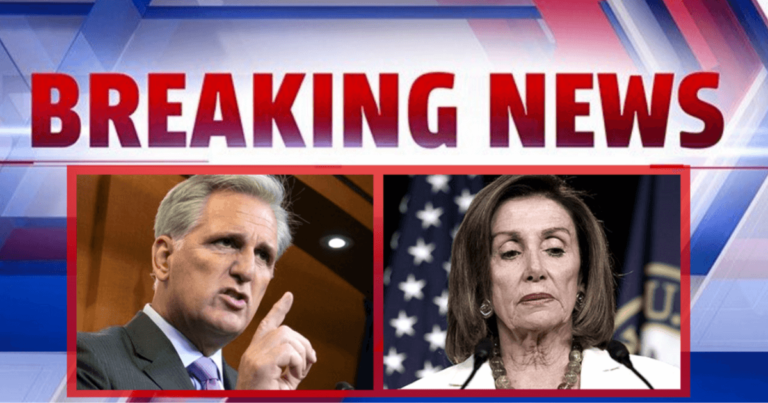 What's Happening:
You may have heard about the controversy surrounding newly-elected congresswoman, Marjorie Taylor-Greene.
The Democrats have gone after her over old social media posts, claiming she was a "conspiracy theorist."
She herself had made it clear that she is not. Republicans have supported her, despite persecution from the left.
But the majority in the House voted to punish Taylor-Greene. Now Kevin McCarthy warns them they will regret it.
From Daily Wire:
House Minority Leader Kevin McCarthy (R-CA) warned Democrats during a Thursday speech on the House floor that they may come to regret using their majority power to pull Rep. Marjorie Taylor Greene (R-GA) from her committee assignments…

"Never before in the history of this House, has the majority abused its power in this way…"

"If this is the new standard, if this is new standard, I look forward to continuing out the standard," McCarthy continued.
McCarthy himself sought to intervene over this issue and met with Taylor-Greene. The congresswoman apologized for her past statements and McCarthy accepted her at her word.
That was not good enough for the Democratic majority, who has recently sought to persecute any vulnerable Republican in Congress.
The majority forced their agenda, kicking Taylor-Greene off her committee assignments, effectively eliminating her influence in Congress.
You can say they are trying to undermine the will of voters who put her there in the first place.
McCarthy condemned their actions, but warned Democrats of the precedent they are setting. He made it clear that if this is the "new standard" moving forward, he would abide by it.
That is a very clear warning of what might happen, should Republicans regain the majority soon.
It's no secret that Democrats lost seats in the last election. Come 2022, they might lose even more seats for Republicans to retake the House.
If that's the case, then Kevin McCarthy will most likely become the Speaker. That means, Republicans might use the same standard against Democrats who post controversial and untrue content online.
There is a long list of Democrats in the House who post radical statements on social media. Some have called for riots. Others spread anti-Israel conspiracy theories. That's just the tip of the iceberg.
(And keep in mind, none of these Democrats have apologized for their statements, as Taylor-Greene did.)
What will happen to them, when Republicans retake the House? According to McCarthy, they won't be in their committees for very long.
Key Takeaways:
Kevin McCarthy condemned Democrats who kicked new congresswoman, Taylor-Greene from her assignments.
They accused her of supporting conspiracy theories, despite her apologizing.
McCarthy warns that he will use the same standard when Republicans retake the House.
Source: Daily Wire