Shock Report Blindsides Average Americans – Get Ready for a Rough Biden Summer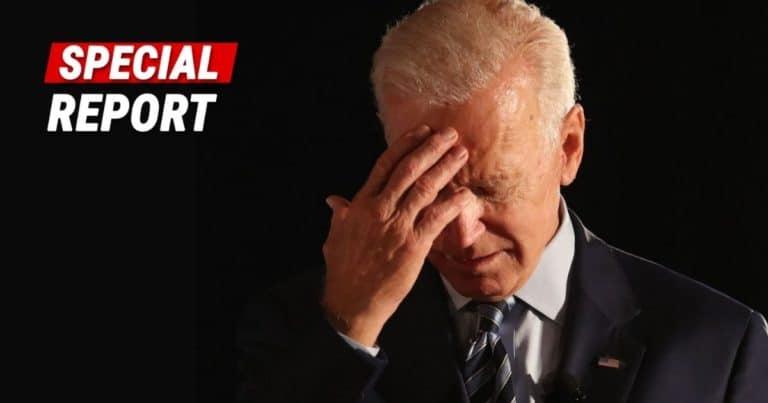 What's Happening:
Joe Biden really has some nerve, right? He wants to be re-elected so he can "finish the job." But the only "job" he's done since 2021 has been to weaken the U.S. economy. Biden has gone out of his way to hurt our energy industry and trigger runaway inflation.
And despite what the media claims, inflation is not going away.
Thanks to Joe, the cost of everything has been increasing. And he has the gall to raise taxes on most Americans, so we are earning less. Biden's making sure we get hammered on all fronts. Americans just celebrated a national holiday last weekend, the most expensive on record. And the summer looks to be even worse.
From The Post Millennial:
This Memorial Day, Americans are spending more for barbecues as the necessary fixings cost nine percent more than last year, while food prices have generally gone up 7.7 percent…

The firm said that a "Memorial Day basket of seven barbecue essentials cost $27.32 in 2023 compared to $25.07 the same time last year." […]

According to Numerator, over 75 percent of consumers claimed that they expected inflation to affect their spending during the holiday.
Basic necessities for the Memorial Day holiday cost at least 7.7% from last year. Food costs nine percent more than the year before. We're not talking about luxuries here, people, but hot dogs and ketchup.
The average family is already pinching every penny Biden allows them to keep. And now, they have to figure out how to pay for something as simple as a BBQ.
Memorial Day is considered the unofficial start of the summer vacation season. But how many Americans are looking forward to this summer, when they can't even afford hamburger buns? Summer trips, July 4th celebrations, and even a day at the pool could be out of the question, thanks to Joe.
Meanwhile, Biden sends billions of our dollars to overseas nations. He and his buddies get to fly on private jets, being treated like royalty. Joe ignores the pain millions of Americans are going through, demanding more of our money to pay for his socialist nightmare.
It doesn't seem that a single Democrat in D.C. cares. Biden dismisses our frustrations and struggles while taking more of our money to bankroll the donor state.
Key Takeaways:
Inflation made Memorial Day events cost 9% more than last year.
The cost of basics and food continues to increase, thanks to Joe Biden.
Biden has triggered runaway inflation, thanks to his reckless spending.
Source: The Post Millennial