IG Report Yanks Open John McCain Curtain – Shows He Funneled Dossier Reports To James Comey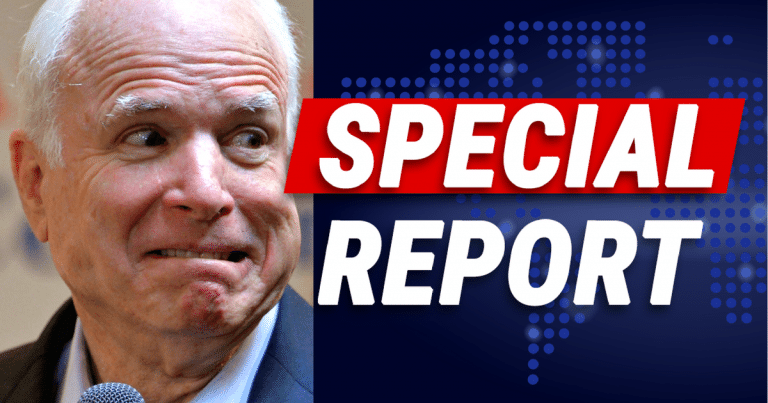 The more we learn about late Senator John McCain, the more questions we have.
As it turns out, it seems McCain may have been quietly working with disgraced former FBI boss James Comey … which is plenty shady.
But when you toss in the infamous Steele dossier, well, things get even MORE shady.
We know Steele gave his controversial reports to the FBI, claiming the Donald Trump campaign was colluding with Russia.
However, here's something we didn't know:
It looks like McCain gave Comey a bunch of reports the FBI hadn't seen before!
Does this mean McCain also wanted to smear Trump's name? Was he helping Steele push the Russia theory?
From Breitbart:
Late Senator John McCain provided disgraced former FBI chief James Comey with five separate reports from Christopher Steele that the FBI didn't previously possess related to unsubstantiated allegations of collusion between Russia and President Trump's 2016 campaign…
The Justice Department's latest Inspector General report provided us with this new disturbing fact.
This means McCain was a connection between Steele and the FBI!
But wait, it gets even worse…
The report shows that an assistant to McCain got the Steele reports directly from Fusion GPS co-founder Glenn Simpson.
That's right, Fusion GPS — a firm paid to do anti-Trump work by Hillary Clinton!
So, what does all this mean?
It means former Senator McCain worked with these anti-Trumpers. And he gave five previously unknown Steele reports to the FBI.
To me, this proves McCain was definitely against Donald Trump.
Look, we need to be suspicious of anyone who works behind the scenes with someone like Steele, and with firms like Fusion GPS.
Like I said, the more we learn about McCain, the more we wonder which side he was on!
SHARE the news that late Senator McCain might've been more anti-Trump than we thought!
Source: Breitbart