After Reporter Tries "Gotcha" Question On Kayleigh – WH Press Secretary Turns The Blame Back On The Media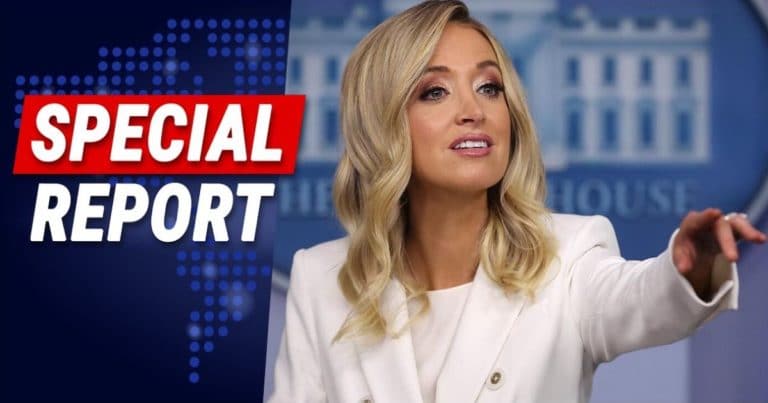 If you didn't know her name before this story, you'll remember it now.
Kayleigh McEnany is the new White House Press secretary. And though she hasn't been in the limelight for very long, she's already establishing herself as a no-nonsense professional.
Case in point:
During a recent press event, Reuters reporter Jeff Mason asked McEnany a pointed – and some might say loaded – question.
He cited McEnany once saying that President Trump wouldn't allow the coronavirus to spread to the U.S.
Then he asked, "Given what has happened since then, obviously, would you like to take that back?"
Well, Kayleigh's response was so perfect, it has been getting a LOT of positive attention.
Kayleigh McEnany ends the briefing after she's asked about her previous claim that Trump would not allow the coronavirus to come into the country.

She does a Hannity-like bit where she brought up cherry-picked headlines from other outlets, asking if they'll apologize. pic.twitter.com/wddlhIZ5mg

— Justin Baragona (@justinbaragona) May 6, 2020
First, she said Trump's travel ban on China was intended to stop the spread of the virus.
Second, she turned the whole thing back around on the press, and issued a series of stinging questions of her own.
And like I said, they're spot-on. Here are a few of our favorites:
I guess I would turn the question back on the media and ask similar questions.

Does Vox want to take back that they proclaimed that 'the coronavirus would not be a deadly pandemic'?

Does the Washington Post want to take back that they told Americans to 'get a grip, the flu is bigger than the coronavirus'?

Does the New York Times want to take back that the 'fear of the virus may be spreading faster than the virus itself'?
Bingo!
McEnany makes a very strong point here. Maybe the mainstream media should look to their own faults before accusing others…
And the new Press Secretary finished her time at the podium with a stinging "goodbye," so-to-speak:
I'll leave you with those questions, and maybe you'll have some answers in a few days.
We've seen unrealistic predictions and misinformation coming from both scientists and the government. Nobody is totally innocent here.
But it's interesting that we rarely hear a major news source admit a mistake. And at the same time, they want to continually accuse the Trump administration of endless mistakes.
I believe that's called a "double standard," right?
SHARE Kayleigh McEnany's ingenious reply to the press! Everyone should hear it!
Source: The Daily Caller