Republican Leaders Introduce Historic Bill – If It Passes, It Could Erase Dr. Fauci's Legacy Forever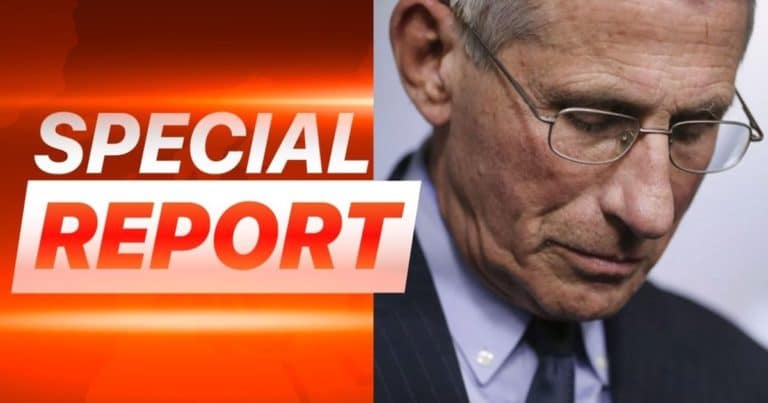 After retaking the House in Washington, Republican leaders have been pushing to make big changes. They run into the Democrat majority in the Senate, but they still push for major alterations.
The latest move is bound to annoy top Washington medical man, Dr. Anthony Fauci — because it would basically eradicate his legacy.
Two well-known GOP leaders are pushing to completely erase the agency that Fauci headed for decades.
Sens. Rand Paul (R-KY) and Chip Roy (R-TX) have introduced a new legislation that would eliminate the National Institute of Allergy and Infectious Diseases (NIAID), which Fauci directed between 1984 and 2022.
Dubbed the NIH Reform Act, it would take away the agency as a whole and split it into three separate national research institutes. Most importantly, each would have a different director.
On top of that, the Senate must confirm each director and they'll be limited to two five-year terms.
The Daily Caller got a copy of the text in the bill and here's what Sen. Paul told the publication:
We've learned a lot over the past few years, but one lesson in particular is that no one person should be deemed 'dictator-in-chief.' No one person should have unilateral authority to make decisions for millions of Americans.

To ensure that ineffective, unscientific lockdowns and mandates are never foisted on the American people ever again, I've introduced this bill to eliminate Dr. Anthony Fauci's previous position as Director of the National Institute of Allergy and Infectious Diseases and divide the role into three separate new institutes.

This will create accountability and oversight into a taxpayer funded position that has largely abused its power and has been responsible for many failures and misinformation during the COVID-19 pandemic.
Paul specifically called out Fauci, who was in charge of NIAID for almost 4 decades.
The Senator has been a vocal opponent of Dr. Fauci since the pandemic struck in 2020, frequently slamming Washington's top doc for making grave mistakes and misleading the American public.
In his statement, Rand added:
[L]ikely there is no public figure or public health figure that has made a greater error in judgment than Dr. Fauci.

The error in judgment was to fund gain of function research in a totalitarian country. Fund research that allowed them to create super viruses that, in all likelihood, accidentally leaked into the public and caused seven million people to die.
Sen. Roy has also been against Fauci from the beginning, and said that "unaccountable public health bureaucracies proved themselves far more adept at ruining lives than saving them."
He added that "never again should a single individual, like Dr. Anthony Fauci, wield unchecked power and influence over the lives of the American people."
Roy was one of several Republicans who suggested possible criminal charges against Fauci in the past, and many still say the doctor should be charged.
Fauci critics have accused him of constant flip-flopping and even outright lies, and note that it seems obvious that the federal government is in bed with Big Pharma. And in the end, it's all about money, not "saving lives."
We'll have to see if this bill gains the traction it needs to pass — it certainly seems like a common sense move.
Key Takeaways:
Two Republican leaders have introduced legislation that would erase NIAID, the agency Dr. Fauci headed for nearly 40 years.
Sens. Paul and Roy say the agency should be split into three separate groups, with three different directors approved by the Senate.
They don't want any one individual – like Fauci – to "wield unchecked power and influence over the lives of the American people."
Sources: The Daily Caller, Breitbart