2022 Midterms Shaken Up by GOP Move – They Just Gave Democrats 4 Clear Commitments to America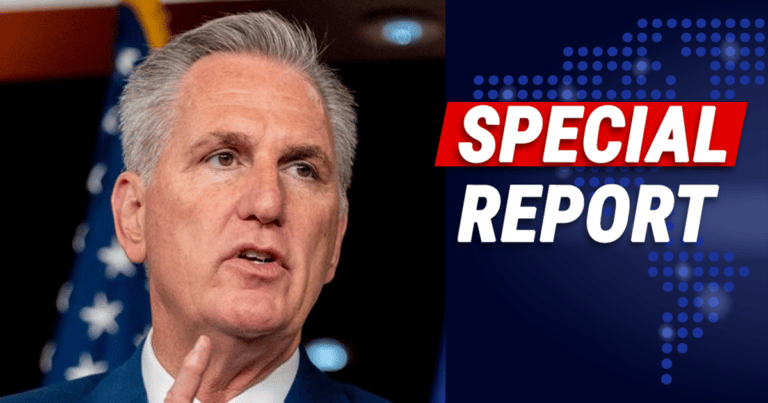 What's Happening:
Plenty is at stake in the upcoming midterms. If Democrats gain a larger majority, all bets are off.
They'll ram the worst parts of Biden's socialist agenda through Congress. Taxes will skyrocket, inflation will rage, and our economy will collapse.
Republicans are not taking any chances with this election. They just unveiled their plan to save America—and put the radical left in its place.
From Breitbart:
Today, House Republicans are rolling out our "Commitment to America," which is a bold conservative vision for a prosperous America that will reverse Biden and Pelosi's self-made crises. Our plan is built on four key principles: an economy that is strong; a nation that is safe; a future built on freedom; and a government that is accountable.
House Minority Leader Kevin McCarthy is leading this commitment, vowing to end Biden's agenda that has poisoned the economy.
From Fox News:
On inflation, the agenda said Republicans will "Curb wasteful government spending that is raising the price of groceries, gas, cars, and housing, and growing our national debt."
He even promised to shut down Democrats' extreme plan to expand the IRS:
Rep. Elise Stefanik hammered Democrats' defund agenda, vowing to support our police instead.
Republicans announced their promises to American voters in the run-up to the 2022 midterms.
As Biden and Democrats tanked nearly every aspect of American life, Republicans are vowing to bring it back.
Kevin McCarthy and fellow House Republicans such as Steve Scalise and Elise Stefanik have rolled out the party's "Commitment to America."
Much like Newt Gingrich's "Contract with America" from 1994, Republicans are laying out an agenda that will fix the many blunders Biden and his party committed over the last two years.
Among the promises Republicans are making they want to restore the economy, protect the country, secure our freedoms, and bring accountability to our government.
This commitment comes as Biden suffers some of the worst approval numbers in presidential history.
Democrats have done nothing to curb his radical agenda and shocking lack of leadership. They've sat back and supported the worst of his plans–which have only hurt Americans.
Republicans appear to be fighting for a chance to right the ship. It is painfully obvious that, despite their many failures, Democrats refuse to correct even one of their mistakes.
It will take a major shift in Congress, before we see things like the border being closed, inflation addressed, taxes lowered, and scandals like Hunter Biden's exposed.
Key Takeaways:
Republicans unveiled their "Commitment to America" plan.
The GOP vows to reverse Biden's failures if they win the majority in November.
Some of the plans include supporting police, closing the border, and reversing Biden's policies.
Source: Fox News, Breitbart, YouTube, YouTube