Rogan Gives His 'The Shining' Midterm Prediction – Joe Claim Elevator Doors Will Open in Major Red Wave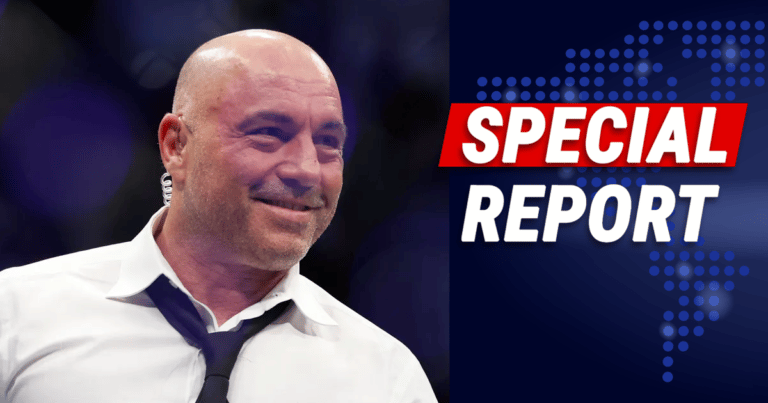 What's Happening:
For years, Democrats and the "woke mafia" have tried to cancel celebrity podcaster and comedian Joe Rogan. They hate the host because he refuses to bow the knee to the radical left. He speaks his mind and invites many conservatives onto his show.
Rogan is delightfully cynical of the left's most radical plans. And he's not afraid to criticize the likes of Joe Biden–even though he considers himself to be a liberal. Recently, he discussed the upcoming 2022 midterms. The popular podcast made his prediction. And it's not what Democrats want, yet again.
From Fox News:
Popular podcast host and UFC commentator Joe Rogan predicted massive success for the Republican Party in the 2022 midterm elections. His comments came during an episode of the "Joe Rogan Experience" that was released Saturday and featured a conversation with comedian Bridget Phetasy.

"The red wave that's coming is going to be like the elevator doors in 'The Shining'," Rogan said, citing the 1980 horror movie based on a Stephen King novel.
Joe Rogan said the "red wave" coming is going to be like the famous elevator door scene from The Shining. For anyone unaware, this is what he was talking about.
Yikes. Talk about a bloodbath. The podcaster and MMA commentator is predicting a staggeringly good election for Republicans–as polls seem to agree with him. Democrats are on the verge of losing the House and perhaps even the Senate.
Voters are blaming Democrats for Joe Biden's terrible moves on the economy, energy, the border, crime, and much more. Polling and other signs suggest a much bigger red wave than many have expected.
Democrats are trying to stem this tidal wave, by denying polling and pulling out every dirty trick they can. Some are leaning on attacks, calling Republicans "threat," while social networks like Twitter are already claiming it will take days or weeks to finalize the vote–echoing back to the drama of the 2020 Election.
Other Democrats are already blaming "voter suppression" for the 2022 results. They say this, despite reports that early voting is hitting record highs–even in states Democrats accuse of voter suppression.
Joe Rogan isn't much of a conservative. But he is quick to call out Democrats for their increasingly un-American and "woke" moves. He hosts the biggest podcast in the world, with hundreds of millions of listeners.
Democrats are certainly worried about his prediction.
Key Takeaways:
Joe Rogan predicted a massive red wave in the upcoming midterms.
He compared the wave to the elevator doors in The Shining.
This comes as reports suggest Democrats will lose big in the elections.
Source: Fox News, YouTube, YouTube