Days After Romney Votes To Remove Trump – Mitt's New Approval Rating Could Send Him Packing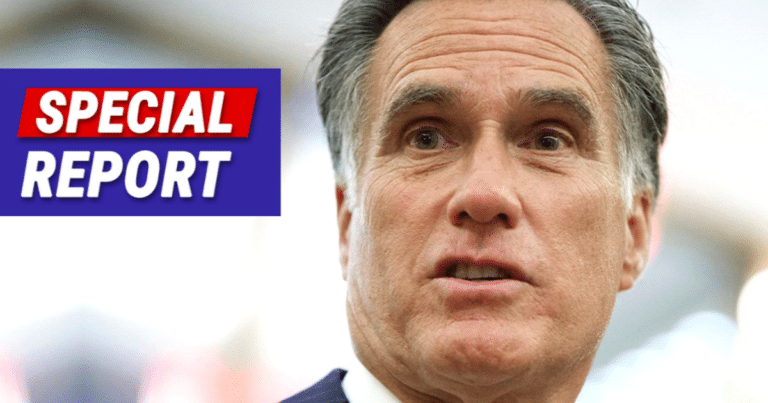 Mitt Romney was the only Republican (in both the House or Senate) to vote against Trump in the impeachment trial.
And it looks like now he's paying for it.
Blowback from Romney's "announcement" and vote was fast and fierce. Conservatives across the country were quick to call him out for voting against Trump in the Democrats' first impeachment charge.
You can say President Trump isn't too happy about it either. He's called out the senator, even posting a damning video about him online.
Some Republicans want Utah to recall Sen. Romney. But what Democrats are saying about him is even more revealing.
From Washington Examiner:
A new national Rasmussen Reports survey found that 64% of Republican voters do not approve of [Mitt Romney] …

But Romney has gained some new pals with his Trump criticism. Democrats, said the survey analysis, "have a new respect for Romney. Sixty percent (60%) now regard him favorably, up from 47% last fall."
Isn't this interesting? Since Romney voted to convict Trump, 64% of Republicans disapprove of him.
But 60% of Democrats now say they have a "new respect" for the man. How funny!
Some people are accusing Romney of being a "secret Democrat." These numbers lend weight to that suspicion.
Before you think this is good news for Romney, though, this about this. Democrats have become the anti-Trump party. That much we know is true.
It seems like they will celebrate anyone that turns on the president or even says a mean thing about him.
(Conversely, they are quick to destroy anyone who says even the slightest nice thing about Trump.)
We shouldn't be surprised that Democrats (who were brutal to Romney in 2012) would suddenly perk up.
But don't be fooled, Mitt. This doesn't mean they're your friends. Much like those bad kids in school, who got you to cut class, these Democrats won't be around to help you when you need it.
Do you think these Democrats will go to bat for you, if Utah tries to recall you?
Do you think any of them will vote for you in your re-election bid in a few years? Will they even support you, if you face a tough primary challenger?
I think we all know the answers to those questions.
SHARE to tell Mitt Romney you are unhappy with his performance.
Source: Washington Examiner