DeSantis Hammers Democrat in Debate – Ron Tells Debate Audience His Opponent Crist Escaped to Puerto Rico During Ian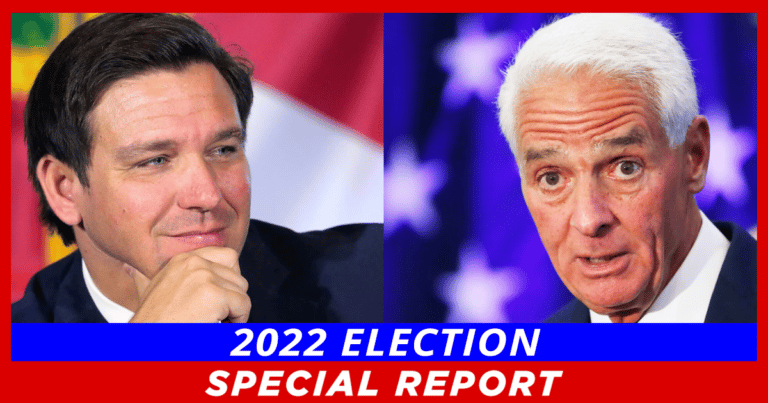 What's Happening:
This week, Florida Gov. Ron DeSantis debated his Democratic rival, Charlie Crist. Honestly, DeSantis didn't need to debate this guy. He is ahead of him in the polls and has outspent him by millions.
Not even the DNC thinks Crist can win. Yet, unlike safe Democrats running for re-election in blue states, DeSantis believes in debating his rivals. Let the voters see what could happen if they voted for this Democrat.
How did Crist repay this act of kindness by the governor? He tried to slam DeSantis' handling of Hurricane Ian.
Ooo… big mistake.
From Daily Wire:
Florida Governor Ron DeSantis (R) slammed Rep. Charlie Crist (D-FL) during a gubernatorial debate Monday night in response to Crist's attacks on DeSantis' handling of Hurricane Ian…

"You know what [Crist] was doing during this? He was hiding out in Puerto Rico," DeSantis said. "He wasn't helping his community here. And then when he got back, what did he do? His campaign was soliciting campaign contributions from storm victims. That is unacceptable and that's not what a leader would do and a time of despair."
Woah. Talk about hot fire. DeSantis praised the hard-working linemen (42,000 in total) who helped recover Florida after the historic hurricane. He even mentioned that the islands that were cut off from the mainland when their bridges were destroyed.
Critics said it would be six months to a year before they were reconnected to Florida. One island had access in three days. The other had its bridge restored in two weeks. By all standards, Gov. DeSantis led an incredible response to the hurricane. Not even the liberal media could find something to complain about.
But what was Crist doing when the hurricane hit and the state was turned upside down? He was hiding out in Puerto Rico! Really? This man wants to be governor. Yet he was nowhere to be found when the state was being pummeled by Ian. Why wasn't he on the ground, helping out where he could?
This would have been a prime chance for Crist to show his leadership skills. Why didn't he put aside his partisan hatred and work with DeSantis for the good of the state? Heck, even Joe Biden flew down to help. Joe praised DeSantis' work saying, "I think he's done a good job."
But Crist criticized DeSantis' efforts and even tried to fundraise off the people hurt by the storm. What can you say about a loser like that? DeSantis wasn't even finished destroying Crist.
From Daily Wire:
"Well listen I know that Charlie's interested in talking about 2024 and Joe Biden but I just want to make things very, very clear the only worn out old donkey I'm looking to put out to pasture is Charlie Crist," DeSantis fired back.
Ouch! Crist, who had no arguments, clearly, tried to undermine DeSantis' re-election bid by claiming he'd drop the state to run for president in 2024. What a dummy. DeSantis has never talked about running for president. It's all speculation by the media.
But the brilliant politician DeSantis used it to crush Crist. I doubt the Democrat will be able to recover.
Key Takeaways:
DeSantis defeated Democrat Crist during their debate.
DeSantis blasted Crist for being MIA during Hurricane Ian.
Crist was hiding out in Puerto Rico, not helping in the recovery effort.
Source: Daily Wire, Daily Wire