On Same Day as Trump's 'Big Announcement' – Ron DeSantis Pulls Off His Own Announcement with 2024 Roadmap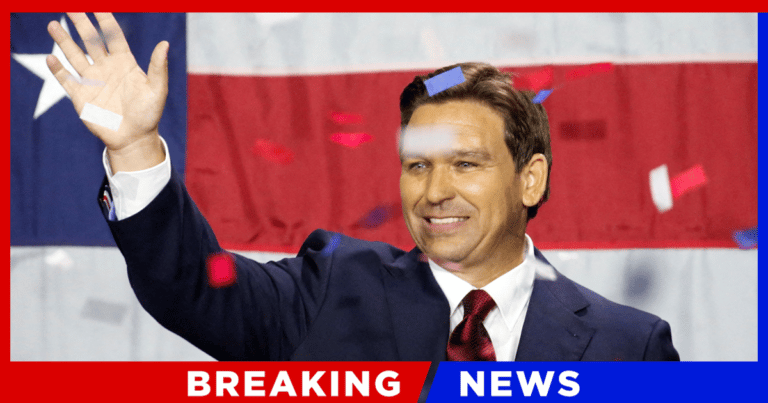 What's Happening:
With the midterms in the rearview mirror, all eyes are on 2024. What Republicans do in the next two years will decide if they win back the White House and turn the country around.
At the moment, the party is trying to decide who will be their figurehead. Trump made his big announcement this week, one that many have been waiting for, for years. But at the very same time, Gov. Ron DeSantis revealed his plans for Republicans to win big in 2024.
From Daily Wire:
Florida Governor Ron DeSantis (R) said during a press conference Tuesday that the way Republicans have governed in the state of Florida is the blueprint for how Republicans can "fundamentally change the overall political terrain in a very strong pro-freedom direction." […]

"…And so we came in to a very, very large, diverse swing state. And we led, and we were on offense, and we didn't, we didn't shy away from big issues, we took on those issues. And we won victory after victory for the people of Florida."
DeSantis responded to the results of the 2022 midterms by pointing to how Republicans governed Florida. It's no secret Republicans scored their most impressive victories in Florida, wiping out Democrats by large margins.
The governor said that to do the same nationwide, it will take a shift in how Republicans do things. It will take more than just running big-budget campaigns. He said the GOP needs to do what he did and focus on "results and leadership."
When DeSantis won the election in 2018, it was by a few points. But by 2022, he won by a landslide. He beat his Democrat rival by 1.5 million votes–unheard of before that. Such big numbers didn't happen by accident.
DeSantis and his team worked tirelessly for Florida. He refused to cower during COVID, even as the media attacked him. He supported police officers. He protected children in public schools. And he launched a massive recovery effort in the face of a historically bad hurricane.
And the results speak for themselves.
DeSantis sounded very presidential as he spoke about the future of the party. It is possible many Republicans will be looking to his leadership for gains in their states. If they follow his lead in the coming years, Republicans could be in a strong position to win big in 2024.
Key Takeaways:
Florida Gov. DeSantis laid out how Republicans can win big in future elections.
He said they must focus on results and leadership if they are to win over voters.
DeSantis urged Republicans to "fundamentally change" the political terrain for freedom.
Source: Daily Wire