After Russia Test-Fires 'Satan-2' Nuke Missile – Kamala Harris Unilaterally Commits to No More Anti-Sat Missiles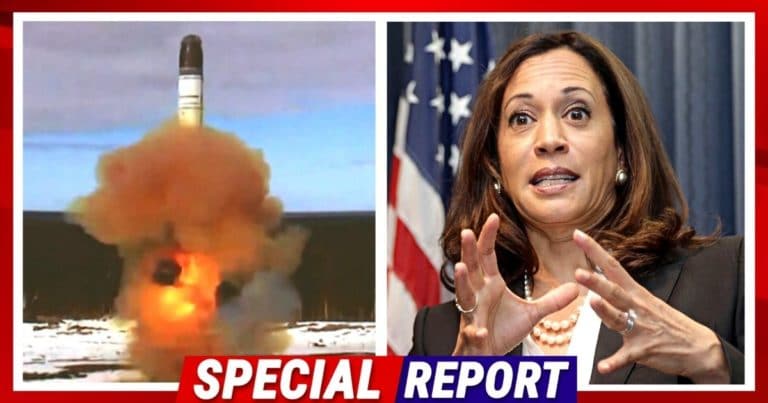 What's Happening:
Many experts believe that Russia is becoming more aggressive, thanks to a lack of leadership from the U.S. And with each passing day, Putin is getting bolder.
He just launched a new nuclear missile.
From The Sun:
RUSSIA has successfully launched its 'Satan' missile, capable of firing up to 12 nuclear warheads at once, Vladimir Putin has claimed.

The launch of the Sarmat intercontinental ballistic missile will give "food for thought for those who try to threaten Russia," the Russian president warned.
Dang. You know, it's hard to pretend like you're on the right side of history, when you call your missile "Satan."
But just as Putin is amping up his war capabilities, Kamala Harris comes out with this brilliant counter.
From CNBC:
The United States government has committed to ending the practice of anti-satellite missile tests, Vice President Kamala Harris announced on Monday, urging other nations to follow its lead.
Just as Putin launches a missile capable of firing 12 nuclear warheads, Harris is calling to end anti-satellite missile tests.
And she's urging other nations to do the same.
Is this administration out of its collective mind? Or are they deliberately lying down like dogs for a tyrant like Putin?
Of course they'll claim this was all planned out months ago. So look at the timing and decide this is a bad time to look weak in the face of strength.
It's pretty unimaginable how badly America is leading, in light of what Russia is doing. The nation is stomping all over Ukraine, with nobody in the world trying to stop them.
They are testing a missile literally called "Satan." And Harris is like, "Hey, everybody! Let's just stop using missiles, kay?"
What a joke. The only language Putin knows is strength. He never tried a thing when Trump was president.
Because Putin knew Trump would make him pay. But the Biden administration is being run by crooks who care little about leading.
They are doing such a bad job because they have no idea what they are doing.
They seem to be getting their cues from DNC talking points.
Key Takeaways:
Putin launched a new nuclear missile called "Satan."
Kamala Harris recently ended anti-satellite missile testing.
The "vice president" urged other countries to do the same.