MAGA Hat Sandmann Scores Historic Lawsuit Victory – CNN Is Forced Into Making A Major Settlement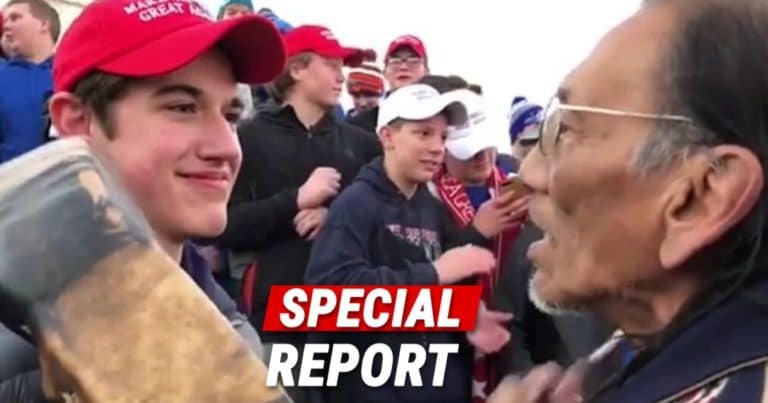 Remember Nick Sandmann? He was a high school student from Covington Catholic High School.
During a trip to Washington, D.C., Nick was confronted by an angry liberal. Although the man was far too old to behave the way he did, he shouted at the young man, beating a drum in his face.
CNN took footage of the incident and claimed it was Nick who assaulted the old man, who was also an American Indian.
The story spread across the world—as the fake news community branded this MAGA-hat wearing boy some kind of racist and bigot.
It led to all kinds of threats against Sandmann and his family. The young man even had trouble applying for college.
Sandmann and his family did not take this sitting down. Following the president's led, he sued CNN for their openly dishonest coverage.
And now, the liberal media is learning a hard lesson.
From Fox News:
CNN has settled a multimillion-dollar defamation lawsuit filed by Covington Catholic High School student Nick Sandmann over its botched coverage of a viral confrontation with a Native American elder that had portrayed the Kentucky teen as the aggressor…

Fox 19 first reported that CNN settled with Sandmann on Tuesday for an undisclosed amount. The $250 million defamation suit sought damages for the "emotional distress Nicholas and his family suffered" in the fallout of the network's reporting.
Boom! The "news network of record" was forced to settle with Nick Sandmann over his $250 million lawsuits.
Guess what? This is only the beginning. Sandmann's lawyer said they are filing as many as 13 other cases against other outlets.
After all, plenty of liberal outlets spread the fake story that it was Nick who assaulted the old man. They used a clip of Nick smiling—trying to stay calm in an obviously intense situation—as proof that he was a bigot.
ABC, CBS, The Guardian, The Huffington Post, NPR, Slate, The Hill, and other companies will face the same consequences as CNN.
These major media outlets had no problem smearing the good name of a young American, all because he wore a MAGA hat.
Finally, the left-wing media is learning that you can't railroad conservatives and get away with it. For years (much longer than we realize) the media has been smearing anyone that is right of center.
They want the world to think we are backward, anti-science, and uneducated. All because we refuse to embrace their left-wing politics.
This victory means more than just peace of mind for Sandmann and his family. It is a message to all the irresponsible liberal media outlets out there.
You days of slandering conservative Americans have come to an end. This will set a precedent, if you lie about us, we'll come for you.
SHARE to thank Sandmann for standing up for every American who wears a MAGA hat!
Source: Fox News