Adam Schiff Faces a Surprise Charge – And Pencil Neck Would Have to Pay a Massive Fine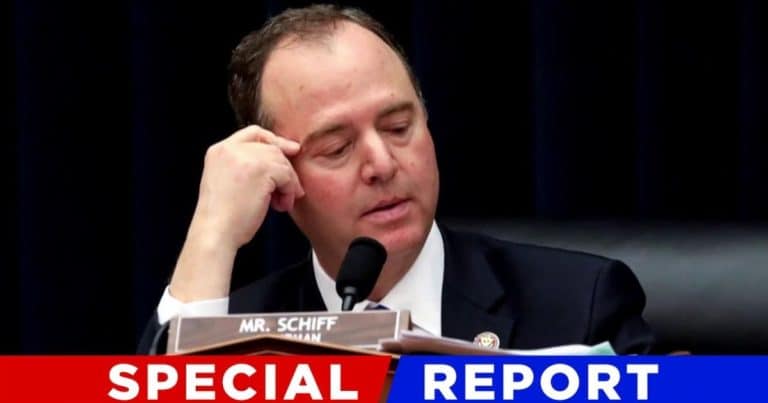 It's been some time since Rep. Adam Schiff (D-CA) has been in the political spotlight.
He made plenty of waves when Donald Trump was in the White House, as Schiff was one of several highly visible Democrat leaders who supported Trump's impeachment. And he continues to be a big Biden supporter.
But now Schiff might have to pay big for one of his bombshell accusations — and accusation that turned out to be false.
The release of the Durham report appears to have closed the book on the "Trump/Russia collusion" conspiracy theory once and for all, which has left numerous leftists with egg on their faces.
This certainly includes Rep. Schiff, who supported the idea that Trump secretly colluded with Russia to influence the 2016 presidential election.
And one Republican leader wants Schiff to pay for this tremendous mistake.
From Fox News:
Rep. Anna Paulina Luna, R-Fla., introduced a resolution that would fine Rep. Adam Schiff, D-Calif., $16 million for his claims that former President Trump colluded with Russia to win the 2016 election.

Luna says that amount is about half of the cost of the federal investigation into alleged Trump-Russia collusion, which was debunked by special counsel reports from both Robert Mueller and John Durham.
In a statement, Luna said Schiff "betrayed the trust of the American people, purposely abused positions of extreme authority, lied continuously, and as such, must be held to account."
Luna specifically calls out Schiff's position as chair of the House Permanent Select Committee on Intelligence.
Considering that spot of power, Schiff's accusation is even more egregious, especially after the Durham report shows that so-called evidence of collusion doesn't exist.
Rep. Luna's resolution also notes that Schiff "lent credibility" to the since-debunked Steele dossier, and he supported a Foreign Intelligence Surveillance Act warrant against Trump aide Carter Page.
All of these actions should never have happened in the first place, argues the GOP leader:
American taxpayers paid $32 million to fund the investigation into collusion that was launched as a result of Rep. Schiff's lies, misrepresentations, and abuses of sensitive information.
So now, she wants at least half of that $32 million back, as the resolution "censures and condemns" Schiff for his conduct, and for wasting that money.
This comes immediately after Luna introduced a different resolution to completely expel from Congress. These are dramatic moves, to say the least, and it isn't likely that both will go through.
However, it certainly highlights the mistake people like Schiff made — after the Durham report, it doesn't look good when you once said "the evidence is not circumstantial."
For his part, Schiff simply claims Luna is a "MAGA" leader and wants "payback." He also said that Republicans "will go after anyone who defends the rule of law."
Most conservatives will find this hilariously ironic, given the left's seemingly ceaseless desire to erase law and order, defund the police, and completely ignore the Constitution to get their agenda items passed in government.
At any rate, Luna's resolutions send a clear message:
You were wrong about the Trump/Russia story. And of course, you're not even apologizing or recanting, so we should start talking about punishments.
Key Takeaways:
Rep. Anna Paulina Luna has introduced a resolution to fine Rep. Adam Schiff $16M.
It's a reaction to Schiff's support of the Trump/Russia collusion theory, which has since been debunked by the bombshell Durham report.
The resolution blames Schiff for betraying America's trust, lying, and abusing his position of authority.