Chuck Schumer Gets Squeezed By Mitch McConnell – He's Running Out Of Time As Debt Deadline Approaches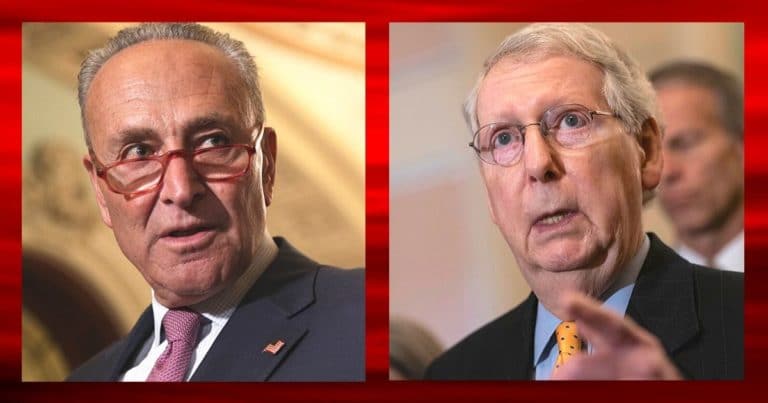 What's Happening:
Earlier in the Fall, Mitch McConnell bailed out Democrats by letting them extend the debt ceiling for two months. Many criticized this move, including Donald Trump. Mitch had Democrats where he wanted them. He could have gotten a deal on infrastructure or maybe even the border. Instead, he caved.
Now, Congress has until December 15 to raise the debt ceiling. Democrats need to do this, or they won't be able to borrow money. That will not only shut down the government but slam the breaks on Biden's toxic agenda. This time, however, Mitch doesn't seem willing to budge.
From The Hill:
Congress is only a couple of weeks away from hitting the Dec. 15 deadline to raise the federal debt limit, and Senate Majority Leader Charles Schumer (D-N.Y.) and Minority Leader Mitch McConnell (R-Ky.) don't appear to be anywhere close to a deal…

McConnell walked over to Schumer's office on Nov. 18 for their first in-person sit-down meeting since Democrats took over the Senate in January.

Afterward he told reporters: "We agree to kind of keep talking, working together to try to get somewhere."
McConnell appears unwilling to extend Democrats another lifeline to raise the debt ceiling. After giving them a two-month stay of execution, Democrats are nowhere closer to a plan forward. Schumer is expecting McConnell to cave and get at least 10 Republicans to vote with the left.
But it doesn't seem like that's going to be a reality. McConnell had previously told Democrats to raise the ceiling using the reconciliation process, the same process they'll need to use to pass Biden's spending bill. Democrats, though, don't seem to want to get their hands dirty, without a few Republicans voting as well.
If Schumer goes ahead and calls a reconciliation vote, it could take as long as a week or more for the process to finish. It will give Republicans a chance to hold amendment votes, delaying the process. In the end, they might run out of time to vote for Biden's spending bill before the end of the year.
Trump has called on McConnell to use his valuable position for the good of the country. He can make a deal. Republicans will agree to raise the debt ceiling, but only if Democrats agree to legislation conservatives want. Democrats don't really have a choice.
But will McConnell come up with a deal like that? I guess we'll find out.
Key Takeaways:
The Senate is stuck in a battle over raising the debt ceiling.
McConnell refuses to bow to Schumer's demands.
Republicans could use the situation to score a major deal.
Source: The Hill