After Schumer And Pelosi Blame Trump For Border Crisis – Illegals Shout Out Whose Fault It Really Is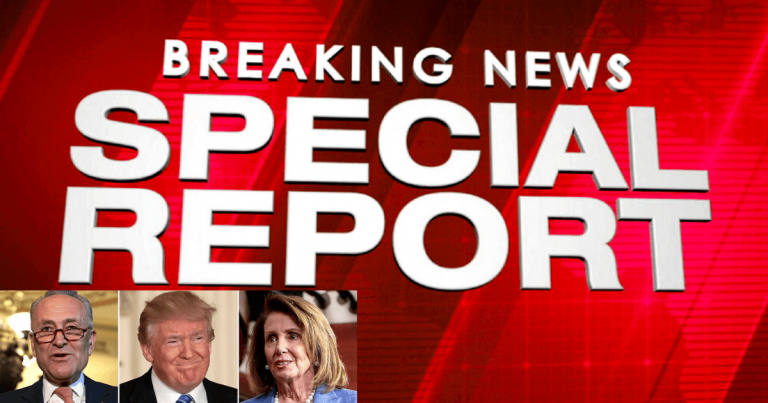 What's Happening:
If you haven't already heard, Joe Biden helped create a brand-new crisis at the border.
The MSM is trying to hide it, but the problem is growing too big to ignore. Ever since Biden erased Trump's border protections, illegals have been flooding it like never before.
Some reporters had enough integrity to demand answers from Biden's press secretary. But Psaki refuses to even acknowledge it (if she even knows what's going on).
Now, some Democrats are admitting to the crisis, but they say it's Trump's fault. You really can't make this up.
From Daily Mail:
Nancy Pelosi on Sunday blamed Donald Trump for the growing crisis at the southern border under Joe Biden, including a massive overflow in detention facilities as the president promises asylum for all those seeking it.
From Washington Examiner:
Senate Majority Leader Chuck Schumer placed blame for the current situation at the southern border at the feet of former President Donald Trump, claiming that President Biden "inherited a huge mess."
Sen. Chuck Schumer, known-idiot, had the gall to blame Trump for this "mess." No, Chuck, the border was under control until Biden killed off many of Trump's policies. Do you really think we're that stupid?
Even the illegals know who is to blame.
From Fox News:
Mexico continues to struggle with the sharply rising number of migrants turned away at the U.S. southern border, with many claiming they were "promised" by President Biden that they could enter the country…

Most were in tears, with some saying, "Biden promised us!" as they returned to Mexico.
Oh… who promised these illegal aliens they could come it? It wasn't Donald Trump.
In fact, Trump moved heaven and earth to prevent this kind of humanitarian crisis. He set up arrangements with Mexico and other countries to turn caravans away—so people wouldn't risk their lives on a hopeless errand.
He built a wall and deported criminal aliens. And he made it clear that immigrants must follow our laws to enter.
And, guess what? Foreigners believed him. Attempts at the border dropped during Trump's time because illegals knew they wouldn't get it.
These poor souls are weeping because "Biden" promised them they could get in. Biden was very open about rewarding illegal aliens during the election.
And it's possible immigration activists in foreign countries told illegals they'd be let in because Biden was in office.
Why do illegal aliens know the score better than Schumer and Pelosi? Oh, because they're not lying. Our leaders are.
Key Takeaways:
Democrats have blamed Trump for the exploding crisis Biden created at the border.
But illegal aliens that are being turned away claimed "Biden promised them" they'd enter.
Joe Biden is the one who rolled back numerous policies enacted by Trump to keep the border safe.
Source: Fox News, Daily Mail, Washington Examiner