Chuck Schumer Quickly Blocks School Safety Bill – Parkland Dad's Clearinghouse Gets Shot Down by Senate Majority Leader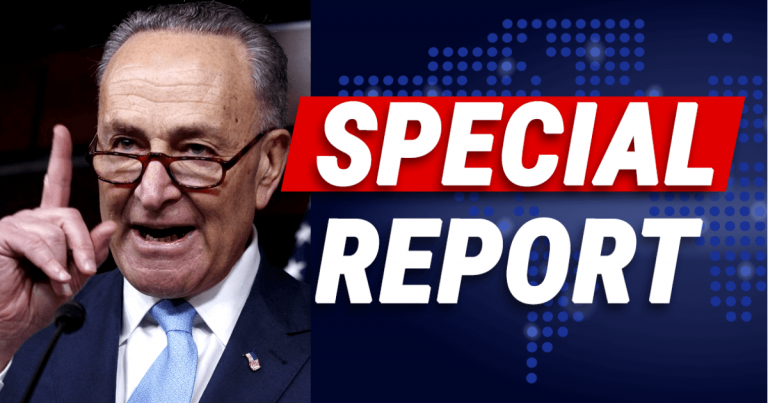 What's Happening:
Democrats have been exploiting the Uvalde shooting for days to push their political agenda. I guess you'd expect them to use this moment to pass something that will keep schools safe.
A Republican senator had a bill specifically dedicated to ensuring greater school safety. It happened to be named after two students killed in the Parkland shooting. Chuck Schumer blocked it.
So, the father of one of those victims is speaking out.
From Fox News:
Max Schachter, whose 14-year-old son was killed during the 2018 mass school shooting in Parkland, Florida, said he's heartbroken after Senate Majority Leader Chuck Schumer, D-N.Y., blocked a school safety bill named after his son Wednesday…

Sen. Ron Johnson, R-Wisc., asked for the Luke and Alex School Safety Act to be passed by unanimous consent. Schumer objected to Johnson's request, claiming on Twitter that the bill "could see more guns in schools." […]

"How does a website put guns in schools? It's ridiculous," Schachter told Fox News Digital in an interview. "It has nothing to do with guns. It's just a website of best practices. It doesn't mandate anything."
Again, we see Schumer refusing to take action after the event at Uvalde, simply over politics. He shot down this bill, which would provide best practices to keep school safes.
His claim? The bill would put "more guns in schools." Schachter called that a lie, saying it only provides guidance to schools—which would implement what they think is best.
The real reason Schumer is blocking this bill? Because it is a Republican-sponsored piece of legislation. Plain and simple.
Schumer and his Democrats have become so partisan, that they can't even work with Republicans to protect school children.
Mind you, Republicans aren't doing this. Sen. Johnson tried to work with Schumer, asking him to let this pass by unanimous consent.
It's the Democratic Party that has blocked good legislation that would keep us safe, for years. They only seem to care about getting the credit, so they can use that during elections.
Democrats rushed to push gun control after the Uvalde shooting. It seems they will only support changes to keep schools safe, so long as it's their "one-size-fits-all" gun ban.
Nothing that actually works will they even consider.
Key Takeaways:
Chuck Schumer blocked a bill named after two Parkland students.
He claimed the bill would put "more guns in schools."
The father of one of the victims called Schumer's claim "ridiculous."
Source: Fox News