Hours After Schumer Calls On Democrats To 'Take Georgia' – Republicans Draw The 'Last Line Of Defense Against Socialism'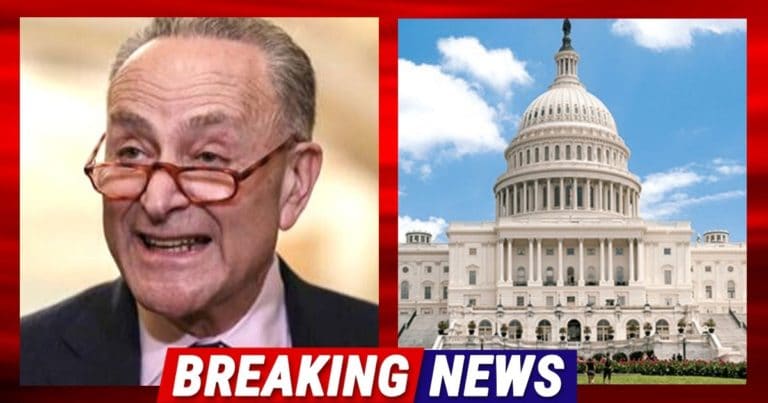 What's Happening:
You might have heard that Republicans have control of the Senate. But that's not the case. Not yet.
Democrats are upset at how many races they lost in the House and the Senate. They are determined to take the Senate so they can ram as many radical programs down America's throat as possible.
They might have a shot at it, with two races still undecided in Georgia. Schumer even revealed his plan:
Republicans have seized on Sen. Chuck Schumer's Saturday remarks when he told a small crowd of New Yorkers celebrating Joe Biden's election win, "Now we take Georgia, then we change the world."
Hear him in his own words:
"Now we take Georgia, then we change the world," Chuck Schumer via @StatusCoup pic.twitter.com/JMtGPzgZUH

— Shane Goldmacher (@ShaneGoldmacher) November 7, 2020
Democrats are convinced they can "win" Georgia the way they thought they won the White House. It's clear they think they can take both Senate seats and have a clear majority.
Republicans are using Schumer's line as a rallying cry to stop them:
The National Republican Senatorial Committee — within hours — took the Senate minority leader's comments and turned them into an ad to warn the country that the Peach State is the "last line of defense against socialism," the Atlanta Journal-Constitution reported.
If Democrats take the House, Senate, and White House—there is little doubt they will force their agenda onto the country.
We're not talking about socialism lite from Obama's era. They have an ax to grind after the Trump years and they won't stop until they get their agenda done.
Moderate Democrats appear to be a thing of the past. Even so-called moderates like Pelosi and Schumer want to rewrite everything we know about the country.
And it seems like Joe Biden, another former moderate, will just sign on the dotted line.
China will just look on grinning.
However, the presidential race shakes up, it's clear the Senate cannot fall into Democrat hands. The runoff elections in January might decide our country's fate for decades to come.
You'd better believe Democrats will do everything they can to make sure they win, pulling the same tactics we may have seen during the election.
Only if Republicans are willing to fight: both in voting and defending election integrity, will they be able to stop the left.
Will you help fight to hold the Senate for Republicans?
Key Takeaways:
Chuck Schumer claimed Democrats will take Georgia and "change the world"
Republicans struck back by airing an ad, saying Georgia is the last line against socialism.
Georgia's two senate seats will be decided by a runoff in January.
Source: Fox News