Trump Releases Brilliant $900M Maneuver On Chuck Schumer, Now He's Scrambling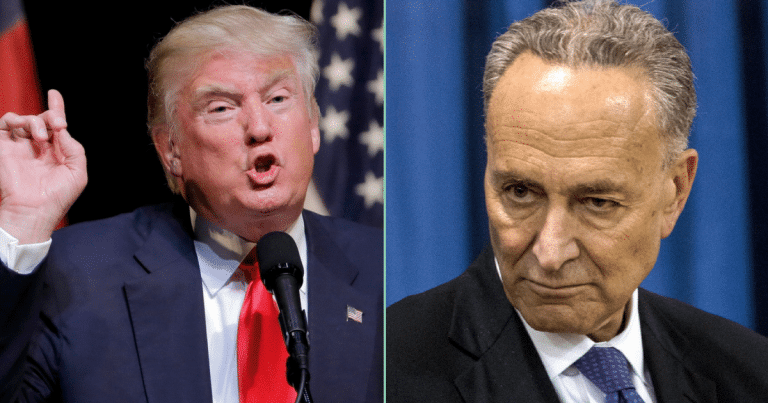 It goes without saying that things have been broken in the nation's capital for far too long, but we can at least take solace in the fact that we finally have a leader in place that's doing something about it.
President Donald Trump has made it crystal clear that business as usual in Washington, D.C. is a thing of the past.
However, that does not prevent the swamp creatures from trying to pull fast ones under the assumption that they'll get away with it as they have in years past. The commander-in-chief is more than ready to deal with the nonsense, as demonstrated by this stealth move he's pulled off against one of his biggest foils.
Breitbart has the scoop.  
President Donald Trump has threatened to veto the mega-omnibus spending bill barreling its way through Congress ahead of the March 23 government funding deadline if it contains a pork pet project for New York and New Jersey that Senate Minority Leader Chuck Schumer, a Democrat, wants in the bill.
Efforts to insert into the omnibus spending bill $900 million in funding for the New York-New Jersey "Gateway" project—a series of tunnels and bridges between Newark and Manhattan to improve traffic flow—are being led by Schumer and House GOP Appropriations Committee chairman Rep. Rodney Frelinghuysen (R-NJ). Frelinghuysen, who is retiring at the end of his current term, controls the purse strings in the House of Representatives and has an enormous amount of influence and power over the spending process from his perch atop the House Appropriations Committee.
But, as reported by a number of outlets last week—and confirmed by Breitbart News—it is President Trump who is standing against the boondoggle pet project, which has already skyrocketed exorbitantly beyond initial estimates.
To get anything done in D.C., there's always a ton of haggling and backdoor maneuvering that takes place in order to make it happen.
Pet projects get tacked on to bills all the time, and the practice is merely brushed aside as the way things need to be to get things accomplished for one's constituents.    
Unfortunately, a ton of money then gets wasted unnecessarily.
Only in the world of the federal government can cost estimates more than double and be dismissed as if there's nothing to see here. And on top of it, the costs for this project are not for the entire US of A, but for porkers like New Jersey and New York.
The system is beyond broken, and it's high time that it gets fixed once and for all.
Thankfully, Trump is on the case to instill a sense of fiscal responsibility into those that feel they can use federal dollars as some kind of personal ATM.  
Source: Breitbart