After Schumer Tries To Blame Trump – Donald Tells AOC She Should Challenge Chuck In The Senate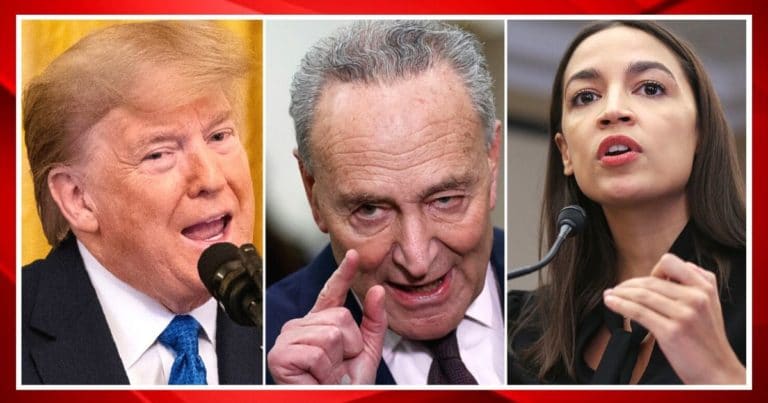 Sen. Chuck Schumer is claiming Trump and his administration were slow to respond to COVID-19.
Bad move, Chuck. It appears the president didn't take that criticism too kindly.
Because he made quite the recommendation:
Cryin' Chuck Schumer was on a late-night show using a false talking point over & over again. "We don't have enough testing ," he would repeat, when he knows we have done a great job on Testing, just like we have on Ventilators and everything else. He lied, gave NY SALT. Run AOC!
President Trump called out Schumer's "false" talking points. He reminded the world that America is testing more people than any other country. And even on the much-discussed ventilator issue, we have plenty.
Trump said Schumer was wrong on "everything else." He then taunted Schumer, suggesting that "Democratic socialist" Alexandria Ocasio-Cortez should run to take his seat!
Sound outrageous to you? Well, if Trump thinks AOC can do a better job than Schumer, Chuck must really be screwing up.
Trump went on to double down on his statement:
Cryin Chuck Schumer, compared to what other Senators have brought home to their states, has brought very little back to N.Y. A totally overrated loser, the one thing he has given them is SALT. He never even called me to stop it. No wonder Cuomo & most others can't stand him. AOC!
President Trump said Schumer has "brought very little" back to New York. He slammed the senator as an "overrated loser," saying the only thing he has ever given the state was the SALT deduction.
Trump went on to say that even Gov. Cuomo and "most others" in the state can't stand Schumer.
He then called out AOC again, to probably remind her to consider running.
Pretty strong words, no matter how you slice them.
But let's think about it. During this crisis, what have Democrats in D.C. really done? President Trump and his task force moved heaven and earth to help the states.
Heck, even Nancy Pelosi got the House to pass relief bills. What has Schumer done, besides complain about the president?
In a crisis like this, you'd expect every leader to band together to help the country. Has Chuck done that at all?
Maybe Trump's right, maybe AOC should run!
SHARE if you think Trump has done a great job – not Schumer or AOC.