After Schumer Tries To Blame Trump For New York – Donald Scorches Chuck With A Public Letter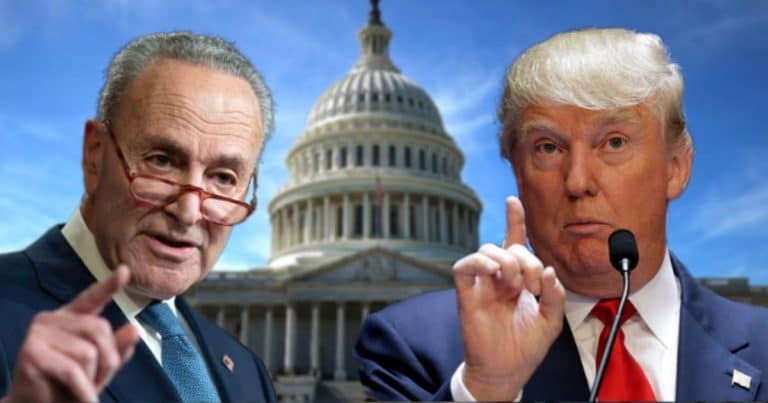 Can you believe the attitude and actions of Chuck Schumer during this crisis? The Democrat Senator from New York backed Nancy Pelosi's plan to slow down the relief bill to stuff liberal pork into it.
And every step of the way Schumer has been trying to pin this situation on Trump. He even tried to blame Donald recently for the developing situation in Schumer's state of New York, demanding a senior military officer take over the NY efforts.
Instead of calling Trump up, Schumer did it in an "open letter" to make the President look bad. Really, Chuck? Well, Donald is fighting fire with fire, and he's doing it much better than you. Just read this:
"No wonder AOC and others are thinking about running against you in the primary. If they did, they would likely win." Pure gold, Donald!
And here's the rest:
"I've known you for many years, but I never knew how bad a Senator you are for the state of New York, until I became President."
Scorched! Clearly this was written in full by President Trump, not one of his people. You can hear his voice in every word.
From our perspective, Chuck Schumer deserved every bit of this. The man is the Senate Minority Leader and should be setting his example for how a minority party should be acting during a tough situation.
That is, to help provide solutions as best he can. Not try to score political points with open letters and unfair accusations.
Schumer responded to this letter, saying he was "appalled." Sure, Chuck. As if you haven't been a politician for decades. You know how the game goes.
And Trump didn't even know you could act like this until he became President. He lived in your state, under your leadership for years, but he never new you could be so ruthless, especially at a time like this.
You know what, Chuck? You started this, and Donald's not going to put up with it.
Why? Because every time you try to take control of the relief effort or slam the brakes on a major relief bill, you're not helping America.
Chuck, if I were you, I would get out of the way and let President Trump do his job. America elected him to get us through times like these—not you.
SHARE to tell Chuck Schumer to be quiet and start helping!
Source: The Right Scoop