After Supreme Court Liberals Go After Trump – Donald Calls On Them To Recuse Themselves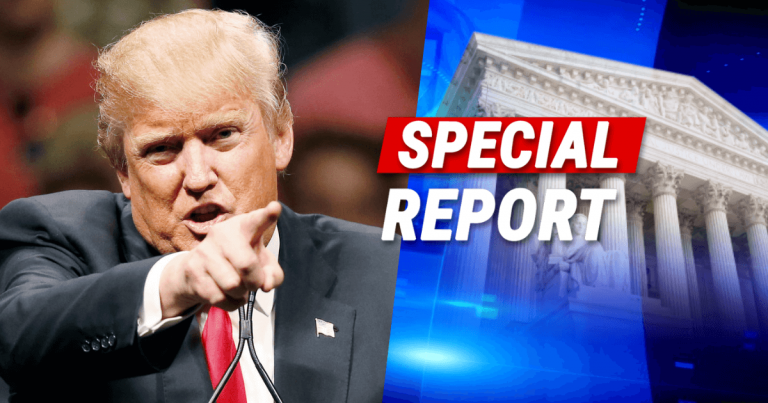 President Trump recently won a landmark case concerning immigrants seeking welfare. The Supreme Court ruled 5-4 on a rule that prevents those seeking a Green Card from getting government handouts.
The liberal justices on the bench were pretty bent out of shape over this. Justice Sotomayor even criticized her Republican-appointed colleagues.
She claimed they were only towing the party line. Oh really? That's rich, coming from a liberal.
Donald Trump is not letting that insult slide. And he's hitting back hard.
From Twitter: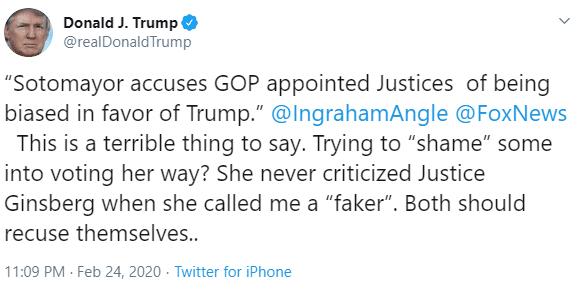 "Sotomayor accuses GOP appointed Justices of being biased in favor of Trump." @IngrahamAngle @FoxNews This is a terrible thing to say. Trying to "shame" some into voting her way? She never criticized Justice Ginsberg when she called me a "faker". Both should recuse themselves..

….on all Trump, or Trump related, matters! While "elections have consequences", I only ask for fairness, especially when it comes to decisions made by the United States Supreme Court!
Boom. Trump called out Sotomayor and Ginsberg for their history of showing political bias.
Sotomayor claims her Republican-appointed colleagues are biased. Trump accuses her of trying to shame them into voting her way.
He brought up the fake that she never confronted Ginsberg when she insulted the president.
Then he dropped a bomb on her. He said both liberal judges should recuse themselves on all cases related to his administration.
That would surely prove she doesn't let her bias get in the way, right? Both Ginsberg and Sotomayor have admitted to being cheerleaders for the left.
Thought judges are supposed to be impartial, upholding the law, we know otherwise, right?
Ginsberg is practically a saint to the left. And Sotomayor just exposed her bias by attacking her other colleagues.
Maybe they should recuse themselves, if they dislike the president so much. How can he trust that the SCOTUS is issuing fair results?
President Trump only asked for fairness. Do you think Sotomayor or Ginsberg can be fair when dealing with Trump-related cases?
Can these two women put aside their possible liberal biases, even as the media pressures them not to?
SHARE if you side with Trump, not liberal justices.
Source: Twitter