In the Dead of Night, Senate Dems Vote 27-22 To Steal Major Constitutional Right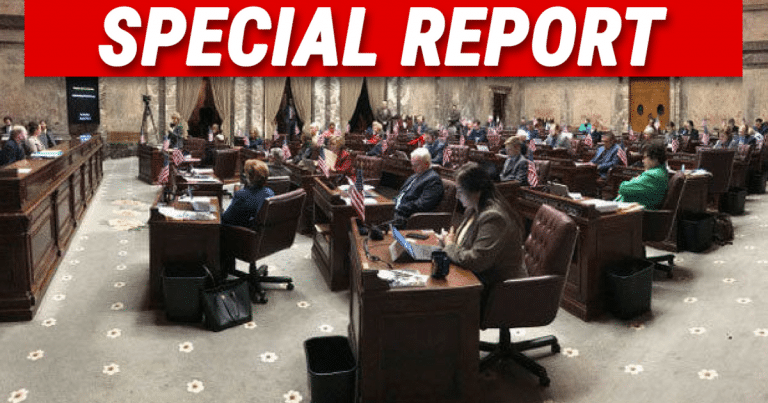 There is a reason we fight so hard for our rights. Because if we don't, they will get taken away from us.
It is shocking to think that a party once devoted to civil rights now wants to destroy our U.S. Constitution. Yet time and again we see Democrats leading the charge to violate our rights. Be they religious rights or the right to bear arms, they seek to erode every last one.
Just this weekend state senators passed a bill that will force Americans to betray their own consciences. They didn't care how it will affect the U.S. Constitution or the Declaration of Independence's claims to the right to life, liberty, and the pursuit of happiness for all Americans.
From Daily Caller:
The Washington state Senate passed a bill Saturday mandating that insurance companies pay for abortions and contraceptive drugs and procedures for maternity care plans.
The state legislature passed Senate Bill 6219 in a 27 to 22 vote Saturday, according to KIRO7. The measure insists that any company who provides maternity care must also provide coverage for women who seek to abort. It also requires insurance companies to cover all contraceptive methods including drugs, implants, consultations and sterilization procedures. The bill does not allow exceptions for religious or moral objections…
 "It would require contraception and abortion coverage while violating the constitutionally protected conscious rights of individuals, churches, businesses and others," Archbishop of Seattle Peter Sartain said, according to the Peninsula Daily News. "Maintaining the state's commitment to religious freedom is vital."
This is a shocking breach of our Constitutional rights. Millions of Americans oppose abortion on the grounds of their faith. Yet now, in the state of Washington, your insurance company is being forced to fund this vile practice. And, on top of that, those who work in Washington who contribute to their health insurance plan will also be paying for these horrible things.
Does a state government have the right to force people to support abortion? The act is largely considered unacceptable by Americans. Many consider it murder, based on their morals and faith. Can the government force a company to fund this practice? I don't think so.
Don't be surprised if and when this bill is challenged in court. It might even involve the U.S. Supreme Court, as it relates to the First Amendment.
The fight is far from over with this bill.
Source: Daily Caller