Senate RINO Could Help Democrats Beat Supreme Court – Murkowski Comments on SCOTUS Could Put Filibuster in Jeopardy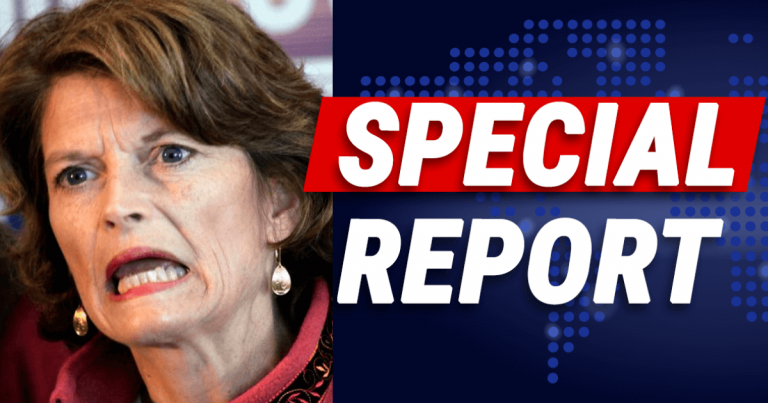 What's Happening:
Democrats are melting down on the news that the Supreme Court might overturn Roe v. Wade.
Some of them, mostly progressives, have suggested radical changes to our government to protect it. They want to end the filibuster so they can either pack the court or pass a law federalizing abortion.
Two Senate Democrats have made it clear that they refuse to end the filibuster. But one so-called Republican seems to be wavering.
From The Hill:
Republican Sen. Lisa Murkowski (Alaska) told reporters Tuesday that if a leaked opinion striking down Roe v. Wade represents a Supreme Court majority, it "rocks my confidence in the court."

Murkowski said Republican-nominated justices she met with during the Senate confirmation process told her that they viewed Roe v. Wade, the landmark 1973 Supreme Court case that established the right to an abortion, as settled law and precedent and gave her the impression they would uphold it.
Um… why is Murkowski, a Republican from a conservative state, so upset that the court might overturn Roe?
Is it because she is a RINO that cares more about supporting the D.C. swamp than defending the folks back home?
The senator said the possible ruling "rocked" her confidence in the court. Really? Does Murkowski really believe the Constitution defends a woman's right to choose?
Most people freaking out right now forget that, if the court passes this ruling, it only means the states can decide on abortion.
Is that so evil? Is it wrong for state lawmakers, respecting the will of Americans, to pass laws that reflect their values?
For Murkowski to be so upset suggests more than you think. It means she doesn't want states to decide on this practice. That she'd rather see a court or Congress force its will onto the country.
She doesn't like the idea that some states will ban this practice outright. She'd rather have all 50 states support a practice that most Americans find objectionable and wrong.
But can Murkowski do anything about it? Does this comment mean she'll go along with progressives to kill the filibuster and federalize abortions?
If she does, she really doesn't want to win her re-election.
Key Takeaways:
Murkowski was "rocked" by the possibility of the SCOTUS overturning Roe.
The RINO appears to be siding with Democrats, who are also outraged.
Murkowski faces a tough re-election with a Trump-backed candidate running against her.
Source: The Hill