Senator Collins Turns On President Trump – Votes With Democrats In Impeachment Trial For More Time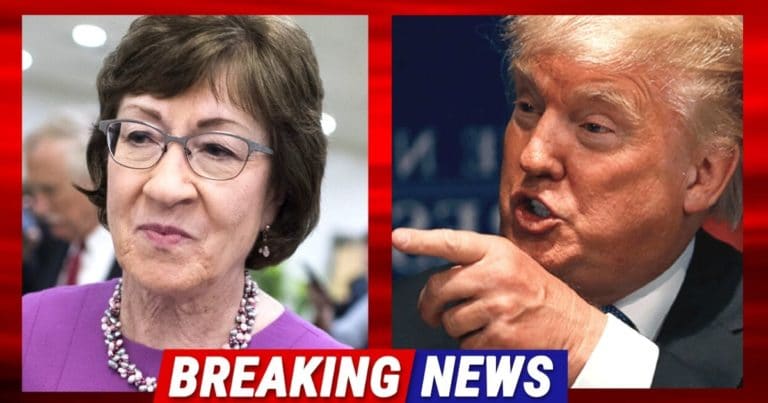 The Republican-controlled Senate is committed to not giving Democrats a win on impeachment.
But it's not as open and shut a case as we would like.
We have known from the start that Susan Collins (as well as Mitt Romney and a few others) were wild cards.
The "moderate" Republican hasn't been as devoted a supporter of Trump as other senators. And she's even voiced support for reopening the House's investigation in the Senate for more witnesses.
Many are worried Collins' would side with Democrats and vote against Trump. And while the final vote is a long way off, one of her votes is already creating concern.
Yesterday, Republicans banned together to block Chuck Schumer's attempt to grab more evidence and documents.
Guess how Collins voted?
From Twitter: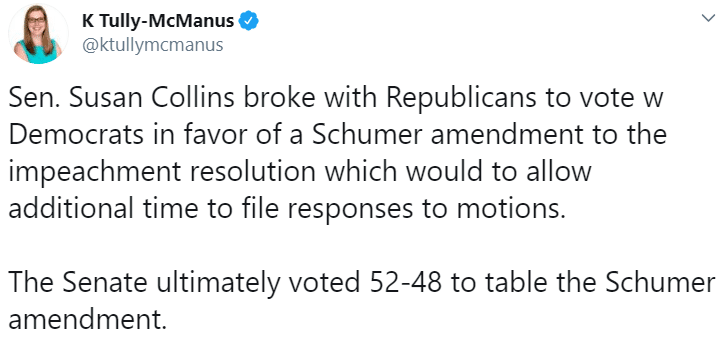 Sen. Susan Collins broke with Republicans to vote w Democrats in favor of a Schumer amendment to the impeachment resolution which would to allow additional time to file responses to motions.

The Senate ultimately voted 52-48 to table the Schumer amendment.
Wow. Susan Collins, a Republican, sided with Schumer on one of his many amendments.
She broke with the party to back his bogus attempt to give Democrats more time to file responses and motions.
I thought they were in a rush to get Trump impeached—now they want more time? And Collins is happy to give it to them?
These time-dragging tactics are just a way to make this impeachment trial last longer than it should.
Republicans ultimately blocked the measure with a 52-48 vote. It should have been 53-47, but Collins sided with the Democrats.
Seems like she wants to ride her "moderate" title, unwilling to take a definite side. She wants it both ways, to keep Republicans liking her while also pandering to the Democrats.
Sorry, Collins, it doesn't work that way. That's why you're one of the most unpopular Senators on Capitol Hill.
Either back the president or start looking for a new job.
SHARE to tell Senator Collins to support her party and the president!
Source: Twitter