After Senator Hawley Plans To Force 2020 Election Debate – His Own Home Gets Mobbed By Antifa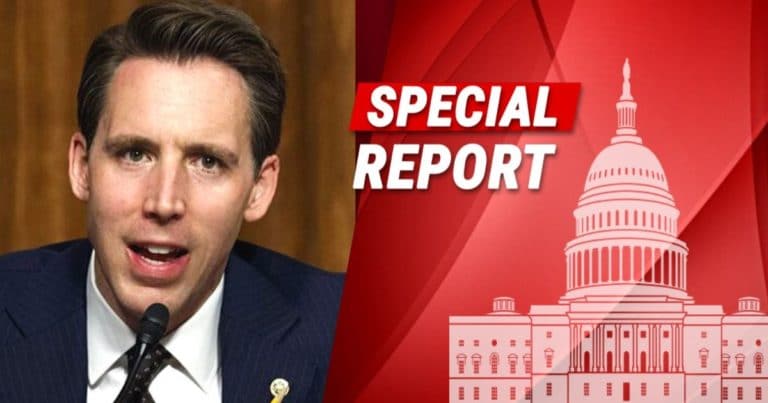 What's Happening:
Never doubt the left's ability to go low. Sen. Josh Hawley was the first member of the Senate to stand up for President Trump.
He put his neck out to announce he would challenge the certification of the electoral results. Only after that did many other senators vow back him up.
What thanks did he get for doing the right thing? Well, the media and Democrats have been merciless. For some reason, Walmart insulted the man.
And the left's favorite jack-booted thugs targeted his home. From Daily Wire:
Sen. Josh Hawley (R-MO) said late on Monday night that Antifa attacked his home in Washington, D.C., and threatened his wife and newborn baby.

"Tonight while I was in Missouri, Antifa scumbags came to our place in DC and threatened my wife and newborn daughter, who can't travel," Hawley wrote on Twitter. "They screamed threats, vandalized, and tried to pound open our door. Let me be clear: My family & I will not be intimidated by left-wing violence."
One of Antifa's many groups claimed responsibility for this "protest," where dozens of angry leftists shouted and vandalized Hawley's property, where his wife and newborn child were.
I find it hilarious that a left-wing militant group that wants to install Marxism in America is protesting for… wait for it… Joe Biden.
Isn't that what we've been saying all along? Mainstream Democrats pretend like they are not connected to these radical groups.
Then why is Antifa so upset that Hawley is challenging the electoral results that benefit Joe Biden?
Shouldn't they be just as angry that a "moderate" establishment person like Biden might be president? I thought they wanted someone like Bernie Sanders in the White House?
This seems to show that the "moderate" Democratic Party no longer exists. If they are relying on Antifa to do their dirty work, then they must be embracing Antifa's radical agenda.
I have a feeling both the Democrats and Antifa will be disappointed by this arrangement.
Meanwhile, leaders who are trying to do the right thing can look forward to mafia-like tactics of intimidation and violence.
How democratic of the left, huh?
Key Takeaways:
An Antifa group targeted Josh Hawley's home after he announced his challenge of the election.
Dozens of screamed outside his home and vandalized property while his wife and newborn were inside.
Democrats have claimed to have no connection with Antifa.
Source: Daily Wire