Joe 'Shuffle' Biden Sent Spinning by Democrats – Staffers Admit they Are Worried Joe Will 'Trip on a Wire'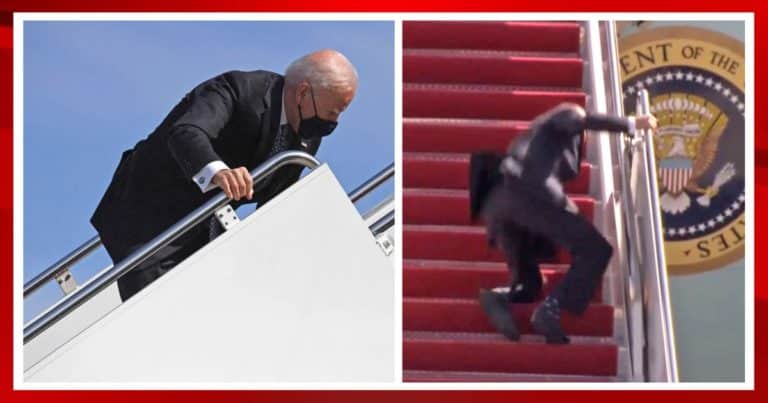 What's Happening:
As we get closer to the midterms, Democrats are panicking. Signs still point to major losses, all thanks to Joe Biden's failed agenda and leadership.
Now, it seems their latest strategy is to throw Biden under the bus. Perhaps they think voters will appreciate if they turn on the man they apparently voted for in record numbers?
And they enlisted the New York Times to help them.
From Daily Mail:
The New York Times has once again suggested Joe Biden may be too old to run for re-election in a piece that revealed the president now 'shuffles,' and that staffers are fearful he may trip over wires…

Saturday's story is headlined: 'At 79, Biden Is Testing the Boundaries of Age and the Presidency' with Times reporter Peter Baker writing that the president's 'age has increasingly become an uncomfortable issue for him, his team and his party.'
Aides working for the Biden administration have told the New York Times that they think Biden is getting too old to do the job.
They're worried about him tripping over wires? How about stairs, or his own feet? Or falling off a bicycle? Because Joe's already done all of those.
The New York Times itself seems to be turning on Biden, claiming that it is his age that makes him unqualified to lead.
Um… really, his age? What about the signs of cognitive decline, his sudden support of socialism, and the fact that none of his policies have worked?
(And the inconvenient fact that he could be in cahoots with his criminal son?)
Staffers at the White House are saying Biden "shuffles" around as he walks now. He is looking less and less energetic.
They even fear he might trip over a wire, like some kind of nursing home patient.
This isn't anything new for people being honest about Joe. Since 2020, we've raised the alarm over signs that Biden is not well.
Joe has long shown signs of mental impairment. He often appears tired, confused, and annoyed while speaking.
He needs help just getting around. And even when he does appear mildly alert, he makes embarrassing gaffes or misreads his teleprompter.
There are way too many times to point to, to prove this. Every American knows the score. Only his administration refuses to mention it publicly.
But if the Times is now saying it, it's going to be hard for the rest of the party to ignore.
Key Takeaways:
The New York Times published an article criticizing Biden's age.
It revealed staffers are worried that the "shuffling" man might trip over a wire.
This comes as many Americans long worried about Biden's mental health.
Source: Daily Mail