After Democrats Announce Shutdown Solution – Trump Swings Wall Hammer Through It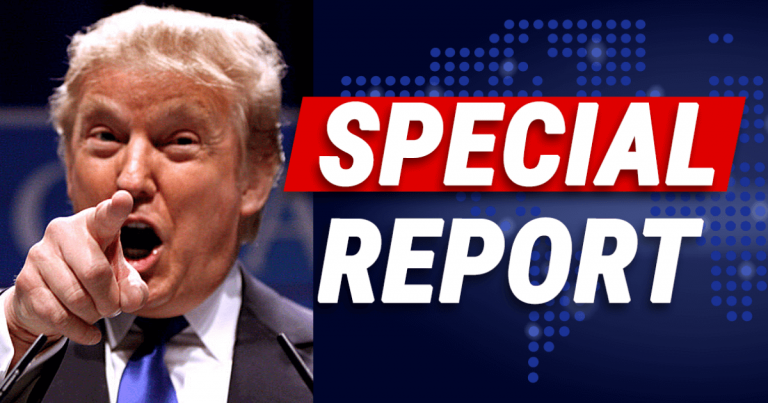 Schumer and Pelosi are feeling the pain, but Donald's not done with them yet.
It's 2019, but despite the new year, Democrats are up to their old tricks.
As the government shutdown drags on, they plan to force through a pathetic "solution."
Their new bill isn't even an attempt to cooperate with Republicans. So Trump is dropping the hammer.
From IJR:
Democrats in the House of Representatives are planning a vote on Thursday on a funding package to end the 10-day-old partial U.S. government shutdown without providing the $5 billion President Donald Trump has demanded for a U.S.-Mexico border wall…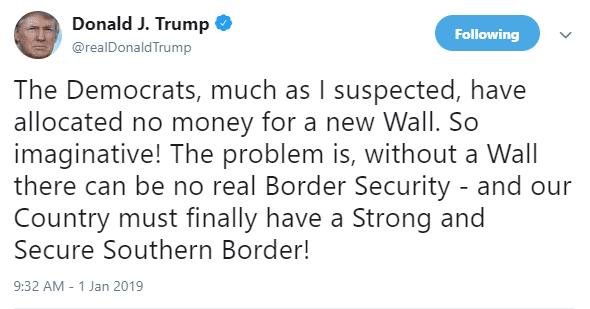 "The Democrats, much as I suspected, have allocated no money for a new Wall. So imaginative! The problem is, without a Wall there can be no real Border Security – and our Country must finally have a Strong and Secure Southern Border!"
SHARE to thank President Trump for making sure America gets the Wall it deserves!
Democrats caused this shutdown. And as they've enjoyed lavish holidays, thousands of employees were without pay.
That includes are men and women serving overseas.
But the Left doesn't care. All they want to do is obstruct Trump's plan to make America great again.
Imagine being so petty, pathetic, and evil, you'd prevent your own country from succeeding.
What do Democrats think will happen? Do they expect Trump to fold?
Republicans managed to score a bill in the House before the shutdown. It was Democrats in the Senate who refused to play ball.
Now their "solution" dumps billions in wasteful government programs. But not a red cent for the needed wall?
Once again, we see Democrats don't care about our security and prosperity.
The only good news is Trump refuses to tolerate their petty games. He is holding out for the wall, so all Americans can be safe and free.
SHARE if you support President Trump holding out until he gets the Wall funded!
Source: IJR