Sound of Freedom Hero Stuns RINO Romney – This Could Shake Up D.C. As We Know It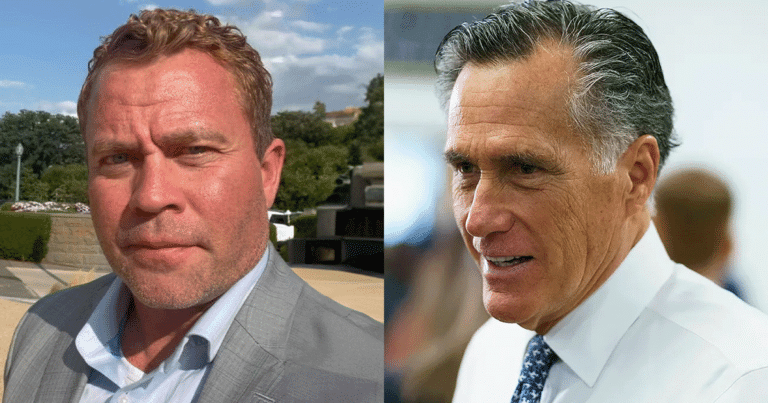 What's Happening:
All over the world, viewers are discovering the name of Tim Ballard. Ballard is a former DHS agent known for his work battling child trafficking. He is the focus of the patriotic film Sound of Freedom, which took the box office by storm this summer. The success of the film has allowed Ballard to raise awareness of child sex trafficking, which has exploded thanks to the border crisis.
But the former DHS agent and founder of the non-profit Our Rescue has plans to make a bigger impact on the United States. With the border facing greater threats, and lawmakers in Washington seemingly unconcerned, Ballard is moving to ensure something gets done. And, with the news that Mitt Romney won't be around much longer, Ballard is making a big announcement.
From The Post Millennial:
Tim Ballard, former DHS agent, founder of Our Rescue, and hero on whom the hit film Sound of Freedom is based, has said he will likely run for a Senate seat in Utah. He would [take] the seat from Mitt Romney, who recently announced his intention to not seek a second term in office…

"I keep getting phone calls from people," he said. He said it's easier for him to consider it now that Romney announced his decision to vacate the seat.

Prior to Romney's departure, Ballard said he "was very seriously considering it."
Tim Ballard, the DHS agent depicted in the hit film Sound of Freedom, announced he would likely run for the open Senate seat left vacant by Mitt Romney. Despite having only held that seat for a single term, Romney announced he was not seeking re-election next year.
Ballard has been active in raising awareness about the growing threat of child trafficking across the U.S. border. Thanks to the explosion of illegal crossings under the Biden administration, trafficking has gotten much worse. Ballard has recently spoken before Congress about the threat, pointing the blame on "broken" U.S. policy.
But it was unlikely that he saw much support from those currently serving in office. That could have been one of the reasons he is moving toward a Senate run. The man revealed he gets calls from people, asking him to run. If elected to the Senate, he could be a strong advocate for securing the border and protecting millions of children from the horrors of human trafficking.
Mitt Romney announced he was not running for a second term next year. Many critics believe Romney lost the respect of Utah voters, after voting against Donald Trump. Some Republicans consider Romney a "Republican In Name Only" and have welcomed his retirement.
If Ballard runs, he will have to gain the nomination of Utah Republicans. At least one other state Republican is running. It remains to be seen how much support Ballard can build in the coming months.
Key Takeaways:
Tim Ballard, the figure of the film Sound of Freedom, will likely run for Senate.
He could run to take the seat left vacant by Mitt Romney.
Ballard is a former DHS agent who has battled against child sex trafficking.
Source: The Post Millennial