Minutes After Special Counsel into Trump Launched – Donald Stands Up and Tells Them He Is Refusing to Partake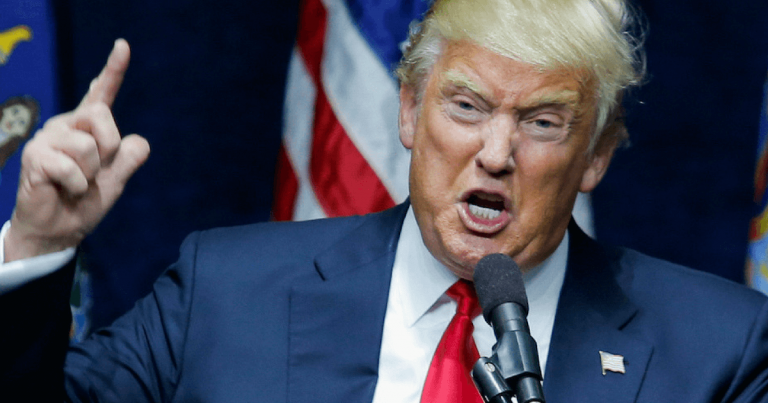 What's Happening:
Donald Trump has faced mountains of accusations from almost the moment he descended that escalator all the way back in 2015. The former President has been accused of saying things he never said, stealing elections he never stole, and so much more.
And now, just days after Trump announced his 3rd bid for the Presidency, the Biden administration has launched a special counsel investigation. From the Wall Street Journal:
Attorney General Merrick Garland appointed a former federal and international war-crimes prosecutor as special counsel on Friday to oversee Justice Department investigations into former President Donald Trump.

Jack Smith, who once led the Justice Department unit that investigates public corruption and since 2018 was the chief prosecutor at The Hague investigating war crimes in Kosovo, will be the third special counsel in five years to examine issues involving Mr. Trump.
Specifically, Mr. Smith will head to Washington to investigate Trump over 2 issues: his handling of documents after his presidency and his role during the January 6th riots at the Capitol.
At the moment, mainstream news organizations are calling Jack Smith a politically independent investigator of corruption, seemingly a fair choice. Selecting a Special Counsel distances AG Merrick Garland from appearances of political activity.
But some believe this action and its timing are suspect. Maybe no one feels that way more than Donald Trump himself, who responded only minutes later with a stark statement. From Fox News:
Former President Donald Trump blasted the Justice Department's appointment of a special counsel to take over investigations related to presidential records and Jan. 6, telling Fox News he "won't partake in it" and calling it "the worst politicization of justice in our country," while urging the Republican Party to take action.

"I have been going through this for six years — for six years I have been going through this, and I am not going to go through it anymore," Trump told Fox News Digital in an exclusive interview Friday shortly after the announcement.
Trump has made himself perfectly clear. After 2 impeachments, a special counsel, numerous investigations and lawsuits, The Donald has had enough.
Can't say we blame him. Even the DOJ has admitted that there is no evidence (now that the midterms are complete) that Trump took the documents with any intent to sell them. It seems he and his team had tried to be helpful with the investigation at the time.
And as for January 6th, as much as the House's grandstanding investigation tried to assign intent to Trump's words and actions on that fateful day, they did not seem to sway many more to believe that Trump incited what happened that day. Why? Because he did not actually tell them to go do what they did.
Here's the concern: if Trump does absolutely refuse to cooperate, he could be subpoenaed, and if he continues to resist, his fate could be like Steve Bannon's. He refused to testify before the January 6th committee and was sentenced to 4 months in prison for it.
Now, would they dare throw a former President behind bars for refusing to comply with a Special Counsel? Well, they did execute an FBI raid on his home, so we probably know the answer to that one.
Key Takeaways:
AG Merrick Garland assigned Jack Smith as special counsel for the DOJ's Trump investigations.
The former President immediately responded with a refusal to cooperate.
Source: Fox News, Wall Street Journal