Spurs Coach Calls President Trump A Racist. His Team Is Quickly Hit With A Devastating Loss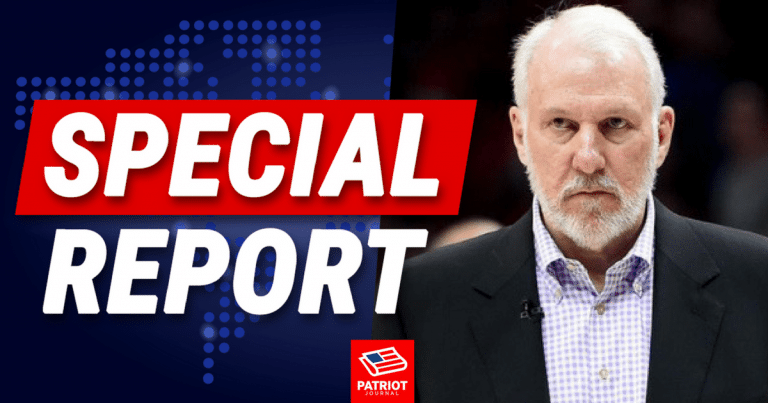 San Antonio Spurs coach Greg Popovich has become a media darling because he mocks President Trump and lectures America.
Working class America is sick and tired of being lectured by people like Popovich who have no idea what real Americans are going through.
Popovich went on a political rant to reporters before his team played the Wizards in D.C.
But maybe he should have spent more time coaching and less time grandstanding.
From SA Current:
"I think we have a situation where we're going backwards, at least as far as race is concerned and it has to be pointed out," Popovich told The Washington Post. "Our current president hopes to bore us to death with all these new issues day after day after day that keep him in the news."
"We take our eye off the ball, and he's great at it," Popovich continued. "He brings out the dark side of human beings for his own purpose, which is himself. And if it's not pointed out and people don't stand up and point it out, it will become commonplace, and it's not the world that I want to live in."
San Antonio Spurs Coach Gregg Popovich on the second amendment, the current President and more important things than tonight's basketball game. Don't tell Pop to stick to sports: pic.twitter.com/vAVCDbv0ye

— Candace Buckner (@CandaceDBuckner) March 27, 2018
This eye roll inducing temper tantrum went on for some time as the liberal lapdogs in the media eagerly gobbled up every condescending word. Popovich went on to condemn Trump for not attending the March for our Lives, calling it "cowardice".
But before the night was through, Trump wouldn't be the only thing that Popovich condemned.
The San Antonio Spurs were decimated by the Washington Wizards during their final matchup of the regular-season, with a final score of 116-106.
Popovich didn't hold back, saying his team was "a really poor example of mental toughness in the sense of no real discipline and no real effort", and that their multiple failures on the court were "very disappointing."
"I think our guys should be embarrassed," he said to reporters, showing his team the same contempt he has for our Commander in Chief.
Stick to coaching basketball Popovich. Your team needs you far more than the country needs your political opinions.
Do you agree with us? Then make sure your friends know it!
Source: SA Current