Squad's Ayanna Pressley Lands In Hot Water – Report Claims She Raked In Rental Property Cash While Pushing To Cancel Rents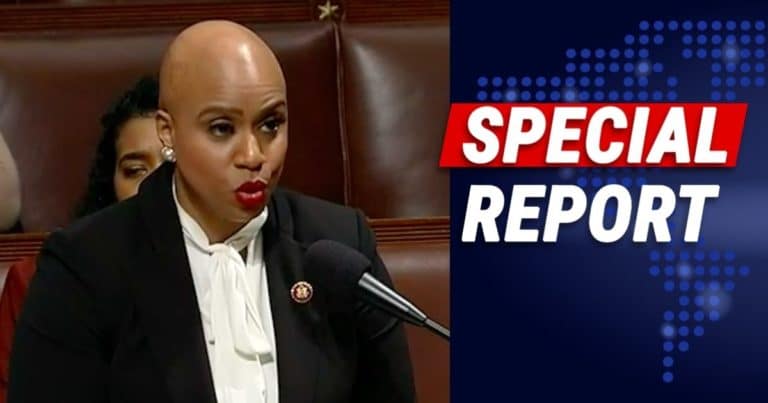 During the height of the pandemic last year, progressives and Democrat leaders pushed a series of controversial ideas.
One of the most extreme was the idea of cancelling rents and even mortgages for many American citizens.
One squad member supported the idea — but she might've raked in big cash by doing exactly what she wanted to stop.
Congresswoman Ayanna Pressley (D-MA) pushed the rent/mortgage cancellation idea often on social media.
She also co-sponsored the Rent and Mortgage Cancellation Act along with fellow Squad members Reps. Alexandria Ocasio-Cortez (D-NY) and Ilhan Omar (D-MN).
But Pressley herself is apparently a landlord. And she didn't stop collecting, either, according to reports.
Via The Daily Wire:
Congresswoman Ayanna Pressley (D-MA) … appears to have collected income from various rental properties at the same time she urged her congressional colleagues to cancel Americans' rent.
Citing a Washington Free Beacon article, Pressley bought a home in Boston for $658,000 in 2019, then she used it as a rental property.
According to rental records, it was originally listed for $2,500/month, then later dropped to $2,300/month.
The records indicate that Pressley and her husband made as much as $15,000 in rental income in 2019.
This was before the pandemic in 2020, but she allegedly refinanced the house in August of last year, and she had to get rental loss insurance with it.
Rental loss insurance covers a landlord for loss of rental income, if they can't rent the property.
This suggests that Pressley continued to earn money on this rental property — all the while pushing a rent cancellation act.
Pressley was very active in pushing the bill that would erase rental responsibilities, which would of course hurt landlords.
But as a landlord, it doesn't look like Pressley was hurt at all.
This is the sort of evident hypocrisy that right-wing politicos and citizens continue to rail against, especially when the evidence appears to flow.
Key Takeaways:
During the pandemic, Squad member Ayanna Pressley pushed the idea of canceling rent and mortgage.
But reports indicate she's a landlord, and never stopped pulling in money on her rental property.
Republicans and others claimed canceling rent for Americans would have a profoundly negative impact on landlords.
Source: The Daily Wire