Stacey Abrams Sinks Her Governor Campaign in Seconds – She Just Claimed Her Home State is "the Worst State in the Country to Live"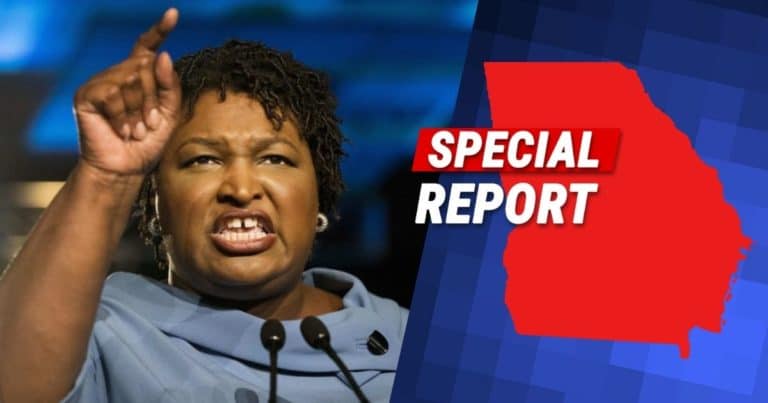 What's Happening:
The liberal media might love radical progressive Stacey Abrams. But after this gets around, nobody in Georgia will.
Abrams tried to become the state's governor, back in 2018. But a photo of her burning the state flag sunk her chances.
Perhaps she thought people would have forgotten about that by now. So she is reminding Georgia voters just how little she thinks of the state.
From Fox News:
Democratic gubernatorial candidate Stacey Abrams declared Saturday that Georgia is "the worst state in the country to live,"…

"I am tired of hearing about how we're the best state in the country to do business when we are the worst state in the country to live," she said.
Wow, what an idiot. Abrams, who has gained popularity among progressives in the media, bashed the state she is trying to take over.
The socialist candidate slammed Georgia's pro-business policies, which have helped employ millions of residents.
In so doing, she called Georgia the "worst state to live in." Um… Republicans? This is something you really need to capitalize on.
We know that most progressives hate America. They say it every day. Their goal seems to involve tearing down our traditions and values and replacing them with Marxism.
Now, we have Abrams openly admitting she doesn't like her own state. Any Republican running against her (ahem, Perdue!) needs to tell voters the opposite.
Current Governor Kemp is fighting off advancements by Trump-backed David Perdue. If either man wants a shot at winning the election, they need to play back Abrams' words to Georgia voters every day until the election.
They need to tell voters they do not agree with Abrams' warped view of the state. They need to make this a major part of their campaigns.
They need to let every voter know Abrams despises Georgia, but they love it. And their policies are actually going to help—when all Abrams is doing to do is bleed the state dry with taxes and wasteful spending.
Key Takeaways:
Democrat candidate for GA governor Stacey Abrams said Georgia was the "worst place to live."
The progressive socialist also bashed the state's pro-business policies.
She previously was hurt by a photograph of her burning the state flag.