Days After Officials Find A Voting Error – PA County Votes To Open A Full Investigation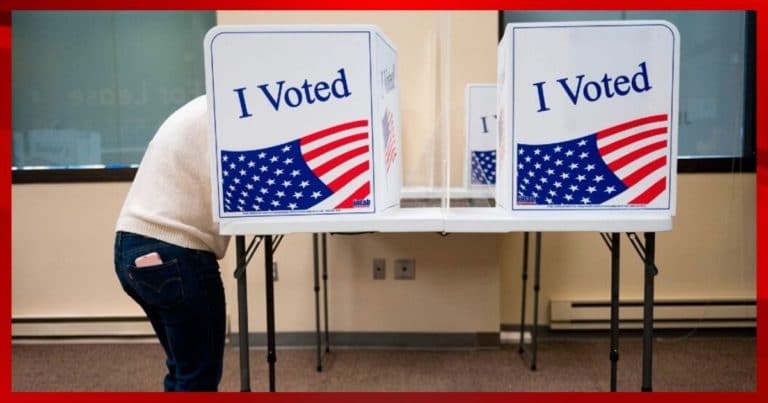 The 2020 Presidential election was one of the closest and most controversial in American history. Joe Biden won by a very slim margin, and needed a comeback in several states to make it happen.
One of his biggest comebacks happened in Pennsylvania. Then-President Donald Trump had a big lead early on, but it disappeared after the mail-in votes were counted.
And ever since then, many Republican leaders and Conservative citizens have questioned the results.
Many believe it just wasn't possible for such a big lead to evaporate so quickly, and several politicos (including Trump himself) suggested major problems with the mail-in ballot system.
Now, it seems we have another issue with voting machines, and in the same state.
During a primary election in one PA county last week, it was discovered that the machines weren't correctly counting Republican ballots.
At first, it appeared to be just a counting error — but then officials realized the machines were only discounting ballots that held a vote for the Republican candidate.
And county officials demand answers (via Washington Examiner):
A Pennsylvania county, which made headlines after voting machines failed to display Republican ballots during a primary election last week, voted on Tuesday to request a top prosecutor further investigate the mishap.
The machines in question come from Dominion. Most will recognize that name, as Dominion voting machines came under heavy scrutiny during the 2020 elections.
So maybe it's about time an investigation was conducted, and that's what Luzerne County's 11-member council wants.
Councilman Walter Griffith made the resolution to start an investigation, and said many GOP and independent voters were "disenfranchised and concerned about the integrity of the election process."
Well, it seems they have every right to be.
If theirs were the only votes not being counted, it really doesn't feel like a mistake: it feels like active suppression. And thankfully, District Attorney Sam Sanguedolce is willing to begin the probe.
When the error was discovered, Dominion executive vice president of operations Nicole Nollette said it was due to "human error." She also claims nothing that happened was intentional.
But none of this is good enough for the county.
It isn't good enough for the many voters whose ballots weren't counted, and it remains highly suspicious that only the ballots marked Republican failed to register.
Have we ever heard of these machines only discounting votes for Democrats? And is it always "human error," or should Dominion consider the possibility that their machines aren't reliable?
In the end, to many Conservatives and independents around the country, election integrity remains a major problem.
Key Takeaways:
Luzerne County in PA has voted to open an investigation into the voting machine failure from last week's election.
The Dominion machines weren't counting Republican ballots, though Dominion blames "human error."
This is more evidence that election integrity remains is a serious issue, and should continue to be investigated.
Source: Washington Examiner