New Stimulus Check Plan Unveiled By Kudlow – He Wants To Send Some A Weekly Bonus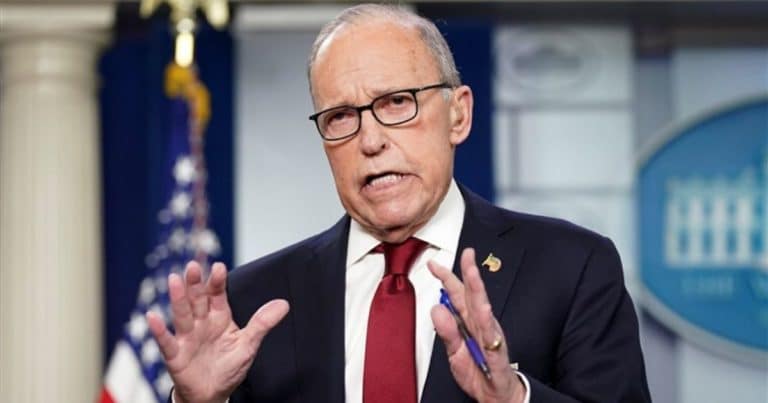 What's Happening:
President Trump and his team have a new plan to get America back to work that contradicts years of welfare spending.
It looks like they want to encourage Americans to get off of unemployment as fast as possible.
The solution? Give Americans a big incentive to clock back into the workforce.
From the Washington Examiner:
Larry Kudlow, the top economic adviser for the administration, said Tuesday that the White House is examining a proposal by Republican Sen. Rob Portman of Ohio that would incentivize jobless workers to return to employment by giving them a weekly bonus.
Trump's top economic adviser, Larry Kudlow, is considering a plan to give checks to Americans who go back to work.
The plan, based on a proposal by Sen. Portman, would provide $450-a-week bonuses for people eager to get jobs.
This will be on top of what they will be earning from salaries or wages.
Why It's Important:
Trump and Kudlow have put together a plan that encourages people to work, rather than incentivize them to stay home.
Unemployment and other welfare programs tend to reward Americans who don't work. In fact, many are encouraged not to find jobs, because they were getting so many benefits (food stamps, checks, etc.) for being unemployed.
Some people laid off by the pandemic are earning $600 more from unemployment than from their old jobs. Which means some people may not bother going back to work until the welfare runs out.
This plan is just about the opposite of that. Instead of paying people to stay home, Kudlow wants to get them back into the jobs market.
Like unemployment, this will most likely be a temporary program. It will help provide Americans with extra cash, so they can put food on the table.
Once the economy is up and roaring, it will no longer be needed. But in the meantime, Americans need to know that it pays to work, not sit at home.
Key Takeaways:
Larry Kudlow is considering a weekly stimulus plan for re-employed Americans to incentivize work over unemployment
Checks would total $450 per week for jobless workers returning to employment.
Source: Washington Examiner