Stormy Daniels Arrested By Undercover Cops, Faces 3 Criminal Charges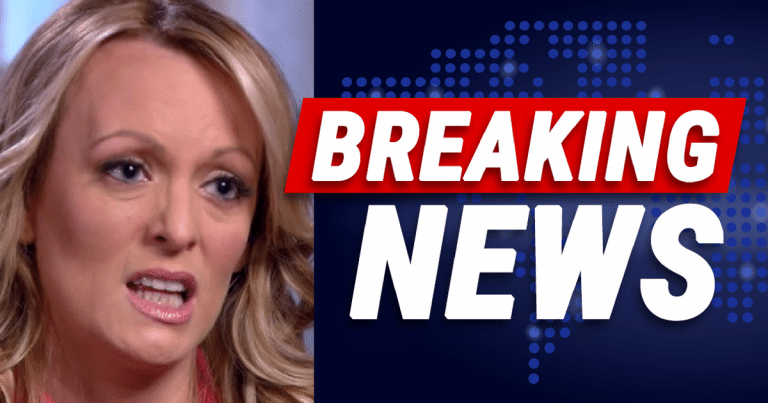 Stormy's case against Trump is going down in flames after she got caught in criminal activity.
Look at how things change, oh so quickly. Just a few short months ago, former porn star Stormy Daniels was appearing on CBS.
She was being interviewed over her alleged affair with Donald Trump. The media made it seem like she would be the smoking gun that would take down the president. My, my, my.
Unfortunately for Stormy—and the fake news media—the story was all smoke, no fire. Americans didn't buy her story about a 10-year-old affair.
Many of her claims could not be backed up or seemed outright false. Once the media realized she was useless to them, they dumped her.
But now it seems like Stormy and her lawyer got their wish. She's back in the news. Both of them will have plenty of time to speak to the press.
And it has nothing to do with Trump.
From CNBC:
Stormy Daniels, the adult film actress who has made headlines for an alleged affair with Donald Trump, was arrested while performing Wednesday night at a Columbus, Ohio, strip club after allegedly having physical contact with patrons.
Police said Daniels was busted after allegedly touching three different undercover vice police officer during her performance at the Sirens club, in violation of state law barring anyone who is not a family member from touching a dancer who is either nude or semi-nude.
Daniels, whose real name is Stephanie Clifford, was released on bail within hours of being arrested on three counts of misdemeanor sex offenses, according to an NBC affiliate. She is scheduled to appear in court Friday.
Welp, Stormy wanted to stay in the limelight. I guess this will do it!
You'd think someone who works in the sex industry would know the basic rules. Her lawyer is claiming it was a set-up, that Stormy is the victim of political targeting. Sure, because police in Ohio have nothing better to do than organize a sting against a has-been. More likely, this is a big dose of karma. Both Stormy and her lawyer wanted to exploit Donald Trump's fame for their own benefit.
Now she's in the hot seat for breaking the law. It could have been much worse, Stormy. You broke an NDA in order to slander the President of the United States. Be thankful you're not in jail over that breach of the law. Or be happy that something really terrible didn't happen as a result of your lies.
Maybe this episode will teach Stormy to recede into private life. Maybe she'll learn not to exploit the public for her own attention. Perhaps, she'll get a little wiser.
Probably not.
UPDATE:
The police have DISMISSED charges against the pornstar. Why? Because she's not a "regular" "entertainer" to that "establishment." Just another example of Democrats getting away with anything. From 10TV:
Statement from Columbus City Attorney Zach Klein:
"My office has reviewed the charges filed by the Columbus Division of Police, and I've determined that these crimes were not committed, based on the fact that Ms. Clifford has not made regular appearances at this establishment as required under the law. We'll do the same inquiry for the other defendants involved, as well. My office was not involved in this sting operation, so any additional questions about it must be directed to the Columbus Division of Police. The charges have been dismissed."
Source: CNBC